Spigen Samsung Galaxy S4 GLAS.t NANO SLIM tempered glass screen protector hands-on
10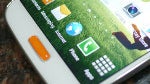 Oh Gorilla Glass 3, you tout so much about your impervious nature and super strength, but even now as some of us lust over the
Galaxy S4
, we're still realizing that it's not entirely resistant to scratches. In fact, I've already seen a couple of minor blemishes with my own personal Galaxy S4, which as always, puts a frown on my face whenever I see one. Well, we know that the solution is to pick up a screen protector – one that's strong and doesn't conflict with the display's clarity.
Recently, the good folks over at
Spigen
sent me an upcoming tempered glass screen protector for the handset – the
Spigen GLAS.t NANO SLIM
. Now, I'm well acquainted with many of
Spigen's other tempered glass offerings
, but this one moves in the correct evolutionary direction. In fact, Spigen is able to push the envelope further by slimming this one down to the
incredibly thin profile of 0.15mm
. After a simple application process, which left a couple of minor air bubbles that were removed with the included squeegee, most people would be hard pressed to believe that a screen protector was actually on the handset. Quite simply, it looked clean and "
naked
."
Not only does the tempered glass screen protector add some much-needed protection against scratches, but it doesn't mess around with its clarity as well. Tilting it at various angles, the same viewing angles are present – plus, there are no discernible levels of distortion too! Doused with an
oleophobic coating
as well, the screen protector maintains a clean finish whenever we remove it from our pockets, seeing that it gets cleaned by simply rubbing against the fabric material in our pockets.
As it stands, the GLAS t NANO SLIM tempered glass screen protector isn't available just yet for purchase, but it will be soon. Moreover, pricing has yet to be revealed, but if we take a look at some of Spigen's existing tempered glass screen protectors for the S4, it could be perched somewhere around the $30 to $40 price range. Sure, some of us will ponder over the validity of investing in something so much for a screen protector, but this one isn't messing around whatsoever when it comes to strength, clarity, and thinness.
More Spigen accessories for the Galaxy S4