Special hands-on with a couple Vertu luxury handsets
16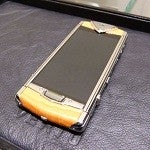 Las Vegas is home to some amazing shows, amazing casinos, stunning architecture, exclusive shops, massive conventions and luxury technology.
Following a press event at CES 2013, we made a brief detour to visit with a Vertu dealer located in the same hotel and casino complex. We took a chance and asked if there was any possibility we might be able to see some of the exclusive handmade cellphones from Vertu. The boutique manager agreed to let us take a look, take some photos and record a quick hands-on video.
We did not have a lot of time since it was clear we were not going to be purchasing any of these items. We were presented with, two for-sale items, plus a demo unit which accounted for
roughly $38,000 of merchandise.
That made the contents of the cases we were standing at worth a total of
at least $250,000.
When you sell exclusive items for that kind of money, specifications do not matter much. These Vertu handsets are not on the cutting
edge
in some parts of technology, but they are certainly exclusive in their use of platinum instead of silver and other exotic materials that are all assembled by hand.
The two models we got to behold were the Vertu Signature Zirconium and the Vertu Constellation. The Signature Zirconium is built exclusively by any one of six women at Vertu who then engrave the plate in the battery well with their signature. It is Vertu's current top-of-the-line device. For such a slim device, it feels like it is indestructible as its weight and construction with zirconium phosphate (yes, the same zirconium-fake-diamond-zirconium, and yes, it is very hard).
The Constellation is a familiar touch screen device. It runs on the Symbian operating system, and though Vertu will begin offering devices running on Android, they are still making the Constellation and Constellation Quest (QWERTY device) series devices. Just like its Signature cousin, the Constellation exudes luxury and unique build quality. The leather feels strange on a hand-set. The sapphire screen shines when it is clear of fingerprints.
These are devices for people that want instant access to concierge services and want to make a statement to their high-dollar circles of friends. However, Vertu has successfully occupied a niche to serve exclusive products and services to a discrete demographic of customers. We saw an opportunity to see them up close and share the view with you.
We want to give a special thank you to Bellusso Jewelers, for allowing us to check out some of their inventory. Bellusso Jewelers is located at the Palazzo shops between The Venetian Hotel and Casino, and The Palazzo Hotel, Resort and Casino. Next time you are in Vegas, check out their exquisite shop of stunning watches, jewelry and of course, Vertu luxury cell phones.

Note from the writer about the video:
"I realize that the first part of the video shows me pronouncing Vertu as "Ventu" and I do correct myself. It was an honest mistake at the end of a long day and wanted that out before the merciless comments accumulated. :-)" -Max R.