Space Shooter X comes to Windows Phone, spacecraft destruction ensues
7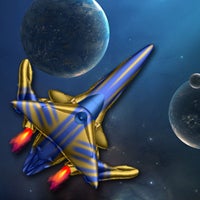 Space Shooter X is one of the latest arcade space shooters to land on the Windows Phone Store. It is a classic example of a sci-fi shoot-'em-up title, a genre that was invented by Space Invaders, the classic 1978 game. The developers claim that Space Shooter X is inspired by Raiden, another all-time space shooter classic.
The players of Space Shooter X have one simple goal – destroy as many enemy spaceships as possible, "win battles against big bad bosses, and travel through the galaxy". The various enemies and adversaries will emerge from all sides, and each one of these foes will require players to use a different strategy in order to destroy them. Lots of power-ups and weapon upgrades are available, too. Different types of lasers, missiles, and torpedoes can be installed on the player's spacecraft. In case you die, however, you lose all of your upgrades.
Space Shooter X comes with modest 2D graphics and visual effects. Controlling your ship couldn't be easier – once you touch your screen, your spacecraft starts shooting, and in order to avoid obstacles or enemy fire, you can move your spacecraft either left or right by swiping the screen.
The game is available for Windows Phone 7.5 and 8 devices. Space Shooter X is ad-supported, which means that it's free to download and play the game, but if you want to get rid of the ads, you will need to make an in-app purchase.
Space Shooter X is nothing to write home about, but it might help you kill some time with its straightforward gameplay.
Download: Space Shooter X (
Windows Phone
)
via:
WPCentral