Sony Xperia Z5 hands-on: long time no see
28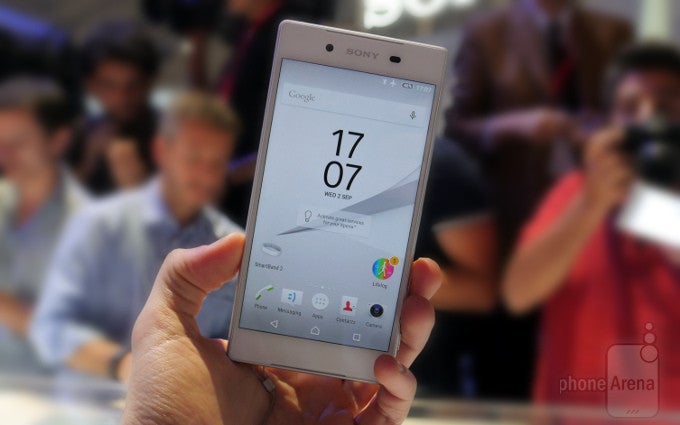 After what has been a rather perplexing moment in Sony's mobile affairs, the company has finally found a way to undo the confusion of the Z3+ / Z4 period by simply launching the next step in the evolution of its mobile line-up: the Xperia Z5. At IFA 2015, the Sony Xperia Z5 was introduced to a generous audience, but will the new flagship phone really manage to turn things around for the troubled firm?
Design
Some manufacturers are putting a lot of effort into slimming down bezels these days, in an attempt to make the increasingly bigger smartphones just a bit more manageable. Sony, however, doesn't seem to be too concerned with the dimensions of its Xperia Z5. True, the device feels slim and light for its size, but overall, the strict, rectangular shape with sizable bezels means that it's going to occupy substantial area in your pocket. It's mostly a trade-off between comfort and looks, as the rectangular shape does give the Xperia Z5 a nice and stylish appearance – regardless of how many times we've seen it during the last few years, this phone definitely remains a looker!
A small issue we'd like to point out, though, is that the rear edges of the frame tend to feel a bit too sharp, causing some discomfort in the hand. This issue wasn't present with the Z3, but was found with the Z3+. In related news, the metal frame of the Xperia Z5 has been flattened around the sides, making for a much easier grip compared to the Z3's rounded frame.
Display
At first glance, it may seem that Sony hasn't made any changes to the screen of the Z5, but that's not entirely true. Most importantly, the size and resolution have remained the same as before: 5.2" at 1080x1920 pixels. We agree with Sony that if there was such thing as a sweet spot, the characteristics of the Sony Xperia Z5's display would be pretty close to it.
The real difference between this new panel and that of the previous Xperia Z phones is found with its color accuracy. Unfortunately, previous Z handsets had unreasonably bluish displays, culminating with the Z3's almost 10.000 K. Thankfully, our close, yet initial observations reveal that the panel has gone through quite the improvement, with the Z5 now exhibiting considerably more natural colors. Exactly how close they are to the real deal, however, remains to be seen.
In typical Sony fashion, the Xperia Z5 comes with the X-Reality display engine optimizations, which aim to make content appear more vivid and eye-catchy on your phone's screen, by means of sharpening, saturation and contrast tweaks.
Interface and Functionality
It's by no means a surprise that the Xperia Z5 comes running Android 5 Lollipop, but what we are also pleased to come across is the updated version of Sony's custom user experience. Always staying away from introducing any radical changes, the new UX has been slightly improved and streamlined. For example, one thing we particularly like is that the left-pane sorting options menu in the app launcher has been nixed. This way, users won't accidentally pull it out from the left as they are swiping across their app launchers.
A major new feature is the fingerprint scanner that Sony has built into the power/lock button. As far as we know, this is actually the first time a global smartphone manufacturer builds a fingerprint sensor on the side of a phone. It's undoubtedly a rather cool addition, and we're all the more grateful for the fact that the fingerprint scanner is of the touch type. Registration is relatively quick and easy; we've found its accuracy to be satisfying, and its speed excellent. However, we'll need to do some further testing before we can make a definitive conclusion. The fingerprint scanner functionality itself doesn't seem to be usable for anything else but device unlocking at this point.
Processor and Memory
Powered by the cutting-
edge
Qualcomm Snapdragon 810 processor, the Sony Xperia Z5 is sure to handle all types of operations with ease. The system-on-a-chip itself features a 1.9 GHz octa-core processor that comprises 4 powerful Cortex-A57 and 4 efficient Cortex-
A53
cores. The 64-bit architecture is further complemented by the superb Adreno 430 GPU and 3GB of RAM. The imposing configuration should be able to handle pretty much anything you throw at it, even heavier Play Store titles like Hearthstone and Angry Birds 2. And while we can't be certain that things are really going to be that way in reality, we did experience a rather fluid and lag-free UI movement while playing with the phone at IFA.
The Sony Xperia Z5's internal memory seems to be fixed at the reasonable 32 GB, but it's interesting to point out that while Samsung has run away from microSD card slots, the Sony Xperia Z5 still has one – so get your dusty card out and be ready to insert it into Sony's latest and greatest. The phone's internal memory will be forever grateful if it could avoid storing all of your media files.
Camera and Multimedia
Ever since the Xperia Z1, Sony has been using a 20.7 MP camera sensor for its top-shelf Android phones. Now, the company is finally moving to a different one, and unsurprisingly, it's even bigger! The Xperia Z5 will be home to a 23 MP rear shooter, complete with a 1/2.3" sensor and an LED flash. The intriguing thing about this new camera is that it's going to employ a hybrid-type autofocus system that will presumably feature a mixture of contrast autofocus and phase-detection autofocus. According to the manufacturer, the Z5 will be capable of industry-leading 0.03-second autofocus time. We gave it a spin at IFA, and we can definitely confirm that the autofocus on this phone is extremely fast. We don't know if it's exactly 0.03 seconds, but it's pretty much instantaneous. The longest we waited for a focus to get locked on the Z5 was about half a second, which is still great.
The Z5 will be capable of industry-leading 0.03-second autofocus time
Meanwhile, the Sony's is upgrading the front camera from a 2.2 MP unit on the Z3 to a 5 MP one here on the Xperia Z5. Here's to hoping it'll be capable of capturing some snazzy selfie shots! And, as usual with recent Xperia flagships, the Z5 can shoot 4K video, assisted by the Steady Shot stabilization technology.
Sony is staying true to IPS LCD technology, and having in mind how bright previous Xperia screens have been, we expect the Z5 to be a wonderful device to watch video or consume other types of media on, even when outdoors. Furthermore, the sizable 2900 mAh battery should prove to be sufficient enough to allow for long multimedia sessions with the Xperia Z5, though we wouldn't hurry to jump to conclusions so fast, as it does have the Snapdragon 810 chipset, which has so far proven to be quite power-hungry.
Expectations
Honestly, at this point we aren't sure if we should praise the Xperia Z5, or criticise Sony for not innovating enough. Sure, the Xperia Z5 is a looker, but hasn't Sony managed to achieve anything else in the design department during all this time? It's a great design, no doubt, but also one that's starting to feel tired after all these phone generations.
On the specs front, the Z5 seems to be just as capable as any other flagship already on the market. One one hand, that's good, but on the other, can't a company possibly do something to decidedly leapfrog the other players in this market? Well, it looks like Sony cannot at this time. At least we know that its Android software is well optimized and ready to deliver a pleasing and reliable user experience.
At the end of the day, we truly hope that the upgraded internals and meaningful upgrades, such as the new, 23 MP camera, will make the Sony Xperia Z5 a worthy rival to the already strong Galaxy S6, One M9 and G4. Sadly, however, the company is yet to announce any specific details in the way of release date or price, but as you might guess, it's safe to expect a typical 'flagship pricing', meaning a retail cost of about $600-700 off-contract. Be sure to share in the comments if such kind of pricing sounds reasonable to you, given the product at hand. When it comes to the Sony Xperia Z5 release date, things are even shadier, but our educated guess sees the Xperia Z5 launch in time for the 2015 holiday season, at the latest.
Are you looking forward to the Sony Xperia Z5? Is it going to disrupt the market when it launches? Let us hear your thoughts in the comments!