Sony Xperia Z4 vs Samsung Galaxy S6 vs HTC One M9 specs comparison: a Mexican standoff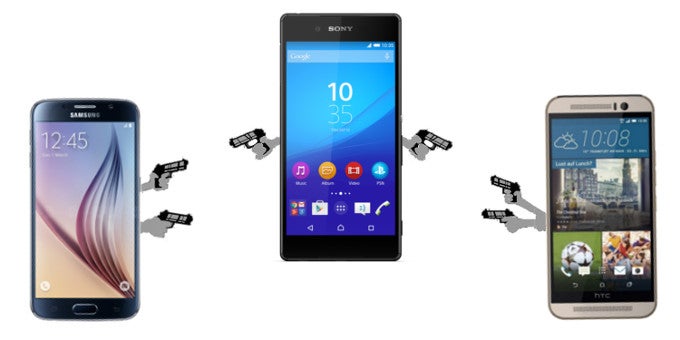 Sony is the latest manufacturer that refreshed its upper echelon portfolio, as its
Xperia Z4
just popped up and relieved the
Xperia Z3
from its flagship duties. True, it's pretty much an incremental refreshment and doesn't bring anything strikingly new to the mix. Instilling a noticeable "deja vu" feel, the Xperia Z4 is the latest embodiment of Sony's time-tested OmniBalance design language paired with respectable hardware.
Still, are the subtle hardware changed in the specs sheet enough to ensure the Sony Xperia Z4 a more prominent spot on the market scene? With rivals like the Samsung Galaxy S6/S6
edge
, the HTC One M9, Apple's champions, and undoubtedly, the upcoming LG G4, the Xperia Z4 will have a hard time competing with the top dogs. Then again, it's a device that will certainly attract a host of admirers with its slim, metal body, and sleek OmniBalance design.
How does the Xperia Z4 fare against the Galaxy S6 and HTC One M9, which are already on the market? Well, let's check out right below:
Display
Technology
Super AMOLED
S-LCD 3
IPS LCD
Features
Scratch-resistant glass, Ambient light sensor, Proximity sensor
Scratch-resistant glass, Ambient light sensor, Proximity sensor
Ambient light sensor, Proximity sensor
Hardware
Samsung Exynos 7 Octa 7420
Qualcomm Snapdragon 810 MSM8994
Qualcomm Snapdragon 810 MSM8994
Octa-core, 2100 MHz, ARM Cortex-A57 and ARM Cortex-A53, 64-bit, 14 nm
Octa-core, 2000 MHz, ARM Cortex-A57 and ARM Cortex-A53, 64-bit
Octa-core, 2000 MHz, ARM Cortex-A57 and ARM Cortex-A53, 64-bit
Mali-T760 MP8
Adreno 430
Adreno 430
Internal storage
128GB, not expandable
32GB
32GB
OS
Android (7.0 Nougat, 6.0 Marshmallow, 5.1 Lollipop, 5.0 Lollipop), Samsung TouchWiz UI
Android (7.0 Nougat, 6.0 Marshmallow, 5.1 Lollipop, 5.0 Lollipop), HTC Sense UI
Android (7.1 Nougat, 7.0 Nougat, 6.0 Marshmallow, 5.0 Lollipop)
Battery
Charging
Fast charging
Qualcomm Quick Charge 2.0
Qualcomm Quick Charge 2.0
25.40 hours
the

average

is 17 h (996 min)
17.00 hours
the

average

is 17 h (996 min)
16.3 days (391 hours)
the

average

is 20 days (472 h)
24.6 days (590 hours)
the

average

is 20 days (472 h)
23.00 hours
the

average

is 19 h (1110 min)
21.70 hours
the

average

is 19 h (1110 min)
16.8 days (402 hours)
the

average

is 0 days (0 h)
3G: 10 hours; LTE: 12 hours; Wi-Fi: 12 hours
Camera
Rear
Single camera
Single camera
Single camera
Main camera
16 MP (OIS, Autofocus, BSI sensor)
20 MP (Sapphire crystal lens cover, Autofocus, CMOS image sensor, BSI sensor)
20.7 MP (Autofocus, CMOS image sensor)
Specifications
Aperture size: F1.9; Focal length: 28 mm; Sensor size: 1/2.6"; Pixel size: 1.12 μm
Aperture size: F2.2; Focal length: 27.8 mm; Sensor size: 1/2.4"; Pixel size: 1.2 μm
Aperture size: F2.0; Focal length: 25 mm; Sensor size: 1/2.3"; Pixel size: 1.12 μm
Video recording
3840x2160 (4K UHD) (30 fps), 1920x1080 (Full HD) (60 fps), 1280x720 (HD) (120 fps)
3840x2160 (4K UHD) (30 fps), 1920x1080 (Full HD) (60 fps)
3840x2160 (4K UHD) (30 fps), 1920x1080 (Full HD) (60 fps)
Recording format
MPEG4, H.264
Features
OIS, HDR, Continuous autofocus, Picture-taking during video recording, Video light, Video calling
Continuous autofocus, Picture-taking during video recording, EIS, Video calling
HDR, Continuous autofocus, Picture-taking during video recording, EIS, Video calling
Front
5 MP
4 MP
5 MP
Video capture
2560x1440 (QHD) (30 fps)
1920x1080 (Full HD)
1920x1080 (Full HD)
Design
Dimensions
5.65 x 2.78 x 0.27 inches (143.4 x 70.5 x 6.8 mm)
5.69 x 2.74 x 0.38 inches (144.6 x 69.7 x 9.61 mm)
5.76 x 2.83 x 0.27 inches (146.3 x 71.9 x 6.9 mm)
Weight
4.87 oz (138.0 g)
the

average

is 6.5 oz (184 g)
5.54 oz (157.0 g)
the

average

is 6.5 oz (184 g)
5.08 oz (144.0 g)
the

average

is 6.5 oz (184 g)
Materials
Back: Glass; Frame: Aluminum
Back: Aluminum
Back: Glass; Frame: Metal
Resistance
Splash; IPX3
Water, Dust; IP68
Features
Notification light, Touch sensitive control keys
Notification light
Sony Xperia Z4