Sony Xperia Z2 specs review
39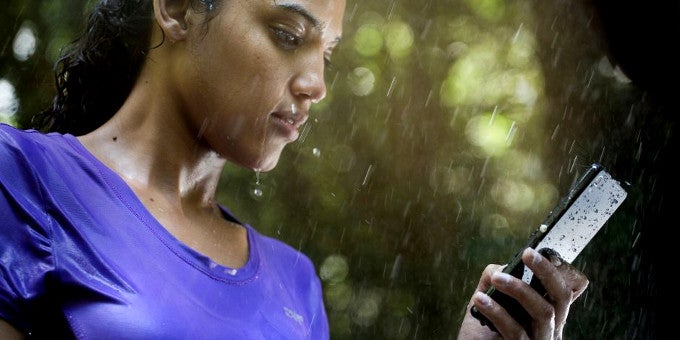 When we started the
rumor roundup for the upcoming Sony Xperia D6503
, codenamed "Sirius", the handset seemed as just an
Xperia Z1
refresh with a larger, higher quality display. The further we went, the more it became clear that we are actually talking about Sony's 2014 flagship, and now that the
Xperia Z2
is official, it's easy to see the massive scope of the Z1's six-months "refresh" cycle. Let's dig into the spec sheet, and see what's in store for us next month, when the Z2 hits the proverbial shelves.
Design
Measuring at just 8.2 mm thickness, Sony's newest flagship a tad thinner than the Z1 predecessor, and it's also a tad lighter. It keeps the same rectangular OmniBalance design with soft edges, and a centerpiece round metallic power key on the side. The phone is again built on a solid one-piece aluminum frame, clasping the glass front and back panels, exuding a premium feeling.
Sony graced it with a dedicated camera button, so it will be a breeze to aim and shoot for a brief second or two, even from locked state, or shoot underwater. The slim chassis of the Z2 is still waterproof, just as on its predecessor, with tightly sealed micro SIM and microSD card slots, as well as a microUSB port. The phone's IP58 certification means you can dunk it in up to 5 feet (1.5m) of water for up to one hour, without causing damage to the internals. This also means plenty of underwater photography options, but more on that later.
Display
The Z2 has quite a different display panel, compared to the Z1. It's a 5.2" 1080p
Triluminos
display, with a new imaging technology, dubbed Live Colour LED. The weakest spot of the Z1 flagship was its 5" display panel, whose viewing angles were far from the flagship level, but on the Z2 we have an IPS panel, so this point is now moot. The new display technology here is called Live Colour LED - it uses red and green phosphor with blue LEDs, and has tailored color filters on top, that allegedly produce brighter and more evenly spread lighting.

The end result, as you can see below, should be more vibrant colors on the display, yet without the accompanying oversaturation of some displays, like the OLED ones. In addition, Sony's X-Reality for mobile engine analyzes the image output in real time for artifacts, colors, sharpness and contrast, and makes sure the digital noise is boiled down to a minimum. The most important thing is that its viewing angles have received a vast improvement over the Z1 predecessor, making the screen aspect truly shine this time.
In comparison with the Snapdragon 800, the new 801 comes with 14% faster Krait 400 processor cores, 28% faster Adreno 330 graphics, and the whole reason for the 801 being - a 45% improvement in camera sensor processing speed. Qualcomm made it pin-for-pin and software compatible with Snapdragon 800, so changing to the 801 is just a matter of swapping out the old, and plugging the new.
Adding 3 GB of RAM, and two image signal processors (ISP), thanks to the new Snapdragon, is another thing that sets the Z2 apart. There are only a few handsets out there with more than 2 GB of RAM, ensuring smooth multitasking experience. The dedicated ISPs for each image processing task are bound to unburden the flow from the main chipset, too, so that 4K video encoding and decoding can run uninterrupted.
Sony Xperia Z2 comes with 16 GB of internal memory, which will get quickly filled up to the brim with that 4K footage, so Sony wisely supplied a separate microSD slot for storage expansion on the side.
Camera
motion
one. Add to these the real-time effects you can apply during shootin, like colouring, image trails, mirror and motion effects, as well as the AR effect you can choose before you press the camera key, and the video aspect all of a sudden becomes dramatically upgraded from the Z1.
You are now also able to create short and sweet Vine video clips directly from the camera interface, too, and underwater at that, if the situation calls for it. The still shots are also getting new options, such as Background defocus. This new camera option will captures two photos at different focus settings, and blends together the different depths, leading to a blurred out background for more artsy photos.
Stereo speakers

Sony didn't stop with only specs upgrades from the Z1, but actually put new features in the Z2, adding stereo speakers to the phone, just as rumored. Together with the amplifier, they form the so-called S-Force Front Surround sound feature on the phone. Not only that, but the Z2 also offers digital noise-cancelling technology, when paired with Sony's MDR NC31EM Noise Cancelling Headset, reducing up to 98% of ambient fluff around you.
We'll have to see how those two technologies behave in reality, but they sound very promising, coupled with Sony's Walkman-derived audio prowess. Sony doesn't list the strength of its new speakers, like HTC did with the 93dB claimed for the
BoomSound
set on its One line, so we'll have to test the S-Force Front surround in action, before we peg any verdict.

Battery
Sony managed to sneak a large, 3200 mAh battery, in the slim 8.2mm chassis of the Z2. This capacity is more akin to a phablet, and Sony promises "
outstanding, class-leading battery performance
". Granted, we had a 3000 mAh unit in the Z1, which is not much smaller, yet screen-on times were unimpressive. The 5.2" display on the Z2 seems to be of a higher caliber, though, than the TN LCD unit of the Z1, which hopefully translates to better power efficiency, hence the promised good battery life. Sony cites 6-7 hours of HD video watching on a charge, however, so apparently the Z2 won't break any battery endurance records, as this is just an average screen-on duration for an Android flagship
Sony says that its new Xperia Z2 will be available globally as soon as March, so no more long waiting is in order between the announcement, and the actual release. So, to sum it up, the Z2 is thinner than the Z1, with a larger, better display, faster processor, more RAM, larger battery, stereo speakers, and runs on the newest Android 4.
4.2
KitKat. All in all, the Xperia Z2 indeed seems like a Spring 2014-worthy flagship. What do you think?