Sony Xperia Z1s case spotted on Amazon U.K. site, reveals possible release date
11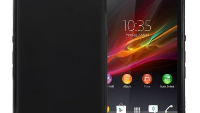 Just because the Sony Xperia Z1s didn't get unveiled on Tuesday doesn't mean that the device is not coming. The so-called "mini" version of the Sony Xperia Z1 was
supposed to have been unwrapped during a Sony event on Tuesday
that was expected to have taken place yesterday in Shanghai. Expectations were high, especially since the
Xperia Z1s made a quick appearance on Sony's website
on Monday before the image was pulled.
Usually, the release of a mini version of a popular model doesn't elicit such a response. But that is because the mini models are usually watered down with slower processors, a drop in RAM and a much less powerful imaging sensor. Instead, Sony has outfitted the Xperia Z1s with the same specs as the full sized
Sony Xperia Z1
including the same 20.7MP rear facing camera. The only changes being made to the Xperia Z1s takes the screen from 5 inches on the full-sized model to 4.3 inches, and lowers the resolution from 1080 x 1920 to 720 x 1280. Lastly, the battery on the byte-sized Xperia model comes in at 2300mAh versus 3000mAh on the full-sized Xperia Z1.
So instead of talking about a launch date and pricing, we are discussing a case for the Sony Xperia Z1s that appears on Amazon's U.K. website. The case, made by Kolay, includes a black gel case and a stylus for the device. The release date of November 26th could be a clue as when to expect the phone itself to be released. Except that the price of £0.25 (40 U.S. cents) is ridiculously low for such a product. And that could mean that the pricing and release date are placeholders with no predictive value whatsoever. One thing though, between the leak on Sony's site and the case showing up on Amazon, we do know the device is real and is coming soon.

Case for Sony Xperia Z1s on Amazon U.K. shows November 26th release date
Thanks, Anonymous Tipster!
source:
Amazon.UK