Sony Xperia Z1 Compact stars in official Sony video
10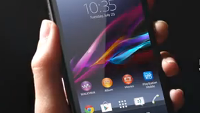 The
Sony Xperia Z1 Compact
was introduced on Monday at CES
, and as we have pointed out before, the mini version of the Japanese OEM's flagship Android model is a big deal on its own. Unlike most "mini" versions of flagship handsets, Sony kept most of the specs from the grown up model. And the specs that it did change, turned out to perform better in real life than on the
Sony Xperia Z1
.
Take the 4.3 inch screen, with resolution of 720 x 1280. In a comparison test with the 5 inch 1080 x 1920 resolution panel on the full-sized Xperia Z1, it was the smaller display that outperformed.
The screen on the Z1 Compact had better viewing angles and colors washed out much less
on the smaller screen.
The only other difference is with the battery, which drops from the 3000mAh cell on the Xperia Z1 to the 2300mAh battery on the Xperia Z1 Compact. Yet, we have heard that battery tests are showing that the lower capacity battery is outperforming the larger battery on the Xperia Z1.
The shared specs between the two models include the quad-core 2.2GHz Qualcomm Snapdragon 800, the 2GB of RAM, and the 20.7MP rear-facing camera. Put all of this together and you can understand why the version of the Xperia Z1 Compact for Docomo (the Sony Xperia Z1f) has quickly soared to the top of the Japanese smartphone sales charts, getting compared to the Apple iPhone.
source:
Sony