Sony Xperia Z1 Compact finally official with 4.3" HD display and 20 MP camera
43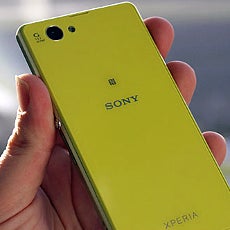 Just when we were ready to break down emotionally, as what everyone thought to be a shrunk version of the
Xperia Z1
- Z1S - turned out to be
a T-Mobile
exclusion
, when Sony soothed the pain, unveiling the real thing, dubbed Xperia Z1 Compact
All the great things we were hearing about it turned out to be true, as the phone is an exact copy of the
recently available Z1f for Japan
, but this time heading for the international markets. This handset is much, much more compact than the Z1, as it carries a 4.3" 720p display, but keeps the same outstanding set of specs, most importantly the same 20 MP camera module with Sony G Lens set. The exact dimensions of the Xperia Z1 are 127 x 64.9 x 9.5 mm with a weight of 137g, while the Xperia Z1 counters with 169g, but a much larger 144.4 x 73.9 x 8.5 mm body.
The Z1 Compact breaks a song and dance with a powerful 2.2 GHz quad-core Snapdragon 800 processor, which, at that screen resolution, should run circles around all the benchmarks and 3D games you throw at it, and enables LTE connectivity, too, should your carrier support the tech. Aided by 2 GB of RAM, multitasking with the phone should be top-notch, and in addition to the 16 GB of internal storage (12 GB user-available) we get a microSD slot. The battery gets downsized to 2300 mAh from the 3000 mAh unit of the Z1, which, thanks to the power-hungry TN display, doesn't sport a good battery life anyway, which will hopefully not be an issue with the Z1 Compact, for which Sony quotes up to 12 hours of video playback on a charge.
Did we mention that the munchkin is waterproof, too, and up to 5 feet of water at that, for up to 30 minutes? Well, it is, marking one of the best compact Android phones money will be able to buy soon. It will come in a plethora of different colors - pink, lime, black and white - just like its Japanese twin, around mid-February, and will cost EUR 550 in Europe, likely bearing the same tag, but in dollars, when it hits stateside. Any takers for the cutsy Z1 Compact?