Sony Xperia Z price puzzle starts to fall into place: it won't be cheap
31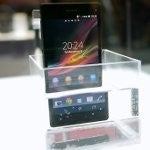 After the first pricing indication for the upcoming
Sony Xperia Z
appeared in the form of a
528 pounds sterling (~$850) offer from Clove UK
, now two more price points for a SIM-free device show up.
First off is a Sony Mobile Australia confirmation that the phone will hit for the lofty sum of 790 USD equivalent, which was said to be the price at Sony Centers for all three black, white and purple variations. Carrier-subsidized prices and the respective monthly plans will be announced at a later day.
Meanwhile, a Finnish online retailer has put a price on the Xperia Z of EUR 739 (~$988), and called it a day, but let's not forget this is preliminary pricing that is not even graduated to preorder yet. Shipping day is listed as
February 28
.
Tough pricing to swallow if you are buying the phone without a contract, but Sony already said they will be
orienting the company towards the higher-end of the market
. Besides, when these phones come to the US, the price is rarely more than $200 with a carrier contract, and $650 unsubsidized, no matter how hot the phone is.