Sony Xperia Z gets ripped apart by the FCC
10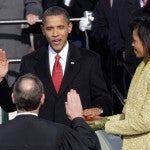 In Washington D.C., the air is electric and the feeling is one of optimism and hopefulness. It's not like we haven't seen this before, but this time there is the feeling that those in charge will get it right. The inauguration? No, we're talking about the
Sony Xperia Z
which just made a trip to the nation's capital to
visit the FCC
. There could have been a mob scene at the airport reminiscent of the Beatles first arrival at JFK in February 1964. After all, this is the phone that captured quite a buzz at CES, even
withstanding Sony's Rube Goldberg-esque dunk tank
that showed off the water resistant ability of the handset.
Along with the usual collection of legal papers, the FCC included in the documentation some tear down pictures of the Sony Xperia Z. We are thinking that if we can just get our hands on the parts, we can call up
that guy who put the phone together in less than 5 minutes
on the video we showed you last week.
Anyway, for your perusal, read on to get a gander of the Sony Xperia Z, gone all to pieces.
source: FCC via
Engadget