Sony Xperia Z gets an impromptu drop test, captured on video
13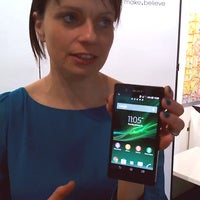 Although the
Sony Xperia Z is highly resistant to water damage
, there isn't much that would protect it from shock or those accidental drops to the floor. Still, sooner or later, someone was bound to give it the drop test treatment, and a Polish mobile tech blog just had the privilege to do so.
Right in the middle of the presentation, around the 2:11 mark, a couple of
Sony Xperia Z
smartphones are dropped from a height of about 3 to 4 feet or so. Do they still work after that? Do their screens crack? Well, we won't tell you as that would spoil the fun of watching the video. What we don't mind telling you, however, is that right after the drop, the devices get tortured just a bit more by being dunked into water. As a side note, that latter test should not be performed with the
Sony Xperia ZL
, which is a smartphone just as capable as the Xperia Z, yet drops the water resistance in favor of a slimmer body.
Now go ahead! Feel free to see what happens when the Sony Xperia Z meets gravity. And in case you're still hungry for more drop tests afterwards, this
Apple vs Google gear showdown
should satisfy your appetite.