Sony unveils new Xperia XZ2 Premium with 4K HDR screen and dual camera
73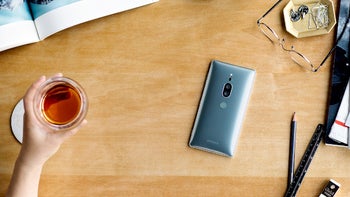 After announcing the flagship Sony
Xperia XZ2
in late February, now, nearly two months after that, Sony unveils an even more premium handset for those craving more features: enter the Sony
Xperia XZ2 Premium
.
The
XZ2 Premium
has one of the highest resolution screens ever put in a smartphone, a 4K HDR display, and it features a new dual camera system that supports very high sensitivity so you can take pictures in nearly complete darkness. The XZ2 Premium can also record 4K HDR videos.
Think about the XZ2 Premium as a super-powered version of the regular Xperia XZ2 in almost every way imaginable: while the two have a nearly identical design with a glass back and a curvy look, the XZ2 Premium comes with a higher-resolution screen, a dual camera with new capabilities, and a high-resolution audio experience.
So, here is a quick look at the main highlights of the Xperia XZ2 Premium and how it differs from the XZ2:
Platform: Android 8.0 Oreo
Dimensions: 3.1" x 6.2" x 0.3"-0.5" (80mm x 158mm x 6.4-11.9mm), 236g weight
System chip: Snapdragon 845 with 6GB of RAM
Display: 5.8" 4K HDR LCD, 16:9 aspect ratio
Rear Cameras: New dual camera, 51200 max ISO for photos, 12800 max ISO for video
Front Camera: 13-megapixel with 1/3.06" low-light sensor
Battery: 3,450mAh
Extras: Live vibration response (a la Xperia XZ2), Water protection, Wireless Charging, No headphone jack
Xperia XZ2 Premium vs XZ2: key differences
The XZ2 Premium and XZ2 basically share the same base architecture as both are powered by the flagship Snapdragon 845 chip, but the XZ2 Premium has more RAM: 6GB RAM vs 4GB RAM on the XZ2. The XZ2 had a 5.7" Full HD display versus the slightly larger and much higher-res 5.8" 4K screen on the XZ2 Premium. Then, there are the new cameras: the XZ2 has a 19-megapixel single camera, while the XZ2 Premium has a dual cam. Up front, the 5-megapixel camera of the XZ2 gets upgraded to a 13-megapixel shooter on the XZ2 Premium. Finally, the XZ2 Premium has a larger battery (3,450mAh vs 3,180mAh), but we are yet to see whether this will actually result in better battery life.
A focus on the cameras
| Cameras | Rear Camera 1 (color) | Rear Camera 2 (black-and-white) | Front Camera |
| --- | --- | --- | --- |
| Megapixels | 19MP | 12MP | 13MP |
| Sensor size | 1/2.3" Exmor RS | 1/2.3" Exmor RS | 1/3.06" Exmor RS |
| Individual pixel size | 1.22μm | 1.55μm | - |
| Lens | 25mm, f/1.8 lens | f/1.6 | 22mm, f/2.0 |
While the Xperia XZ2 had a single camera on its back, the new XZ2 Premium steps up to a dual camera system. The main camera captures color, while the second one records a monochrome image, an approach that is different than dual camera systems used by Apple and Samsung, where the second camera has a zoomed-in, telephoto lens. Sony use the black-and-white pictures from the secondary camera to get more light from an image and then smartly combines the images from the two camera into one using its dedicated "Aube" fusion image processor. Sony boldly claims that "the camera's ultra sensitivity with clean, noiseless images was previously only possible with interchangeable lens cameras," so we are curious to test this new camera in real life.
Using this new dual-sensor camera, you can shoot in ISO of up to 51200 for photos and up to 12800 ISO for videos. These levels are unprecedented for a phone camera, but of course, expect images shot at those extreme ISO settings to look very grainy.
There are a few new creative options as well: the ability to shoot photos in "Select Bokeh" mode, which is a glorified portrait mode that will blur the background of an image for a DSLR-like look. You will also be able to desaturate parts of an image and and leave only your subject in color, for a more impactful image.
Other features that carry over from the XZ2 include 4K HDR video recording that is also supported by the high-resolution 4K HDR display. You also have 960fps super slow
motion
recording here.
Availability
Sony has not yet unveiled an official price for the new Xperia XZ2 Premium and has only said that the premium smartphone will be available in the summer of 2018, but there is no specific release date just yet. The phone will be available in two finishes: a chrome black and chrome silver.
Sony's New Xperia XZ2 Premium takes a bold step forward with ultra-high sensitivity dual camera, 4K HDR display and movie recording
- World's highest ISO sensitivity video recording in a smartphone, 12800 for video and 51200 for photos with bright live view-finder
- 4K HDR display[i] and the world's first 4K HDR movie recording so you can capture stunning 4K HDR movies and play them back directly in the palm of your hand
San Mateo, California, April 16, 2018 – Sony Mobile continues to push the boundaries of innovation with the new Xperia XZ2 Premium, featuring one of the most remarkable cameras ever made in a smartphone. Xperia XZ2 Premium boasts the world's highest ISO 12800 sensitivity for video recording in a smartphone, as well as ultra-high sensitivity 51200 for photos[ii], enabling ultra-low-light capture previously only seen in interchangeable lens cameras. The advanced camera technology on Xperia XZ2 Premium is thanks to the new dual sensor system in the Motion Eye Dual camera and AUBE™ fusion image signal processor that captures more than the human eye can see. With XZ2 Premium, you can also film like a pro using 4K HDR Movie recording and play it back in the palm of your hand on the 4K HDR display, showcasing your favorite moments in crystal-clear detail and eye-popping color and contrast. It's the only smartphone to bring you true professional camera quality plus a premium entertainment experience, all powered by the ultimate in processing power with the Qualcomm® Snapdragon™ 845.
Unprecedented camera capabilities
Xperia XZ2 Premium is the first-ever smartphone to feature the new Motion Eye™ Dual camera, consisting of a black-and-white sensor for capturing clear contrast and the color image sensor for accurate color. Details from both sensors are then processed by the AUBE™ fusion image signal processor in real time, enabling video recording with the highest ISO12800 sensitivity ever in a smartphone (as well as an ultra sensitive ISO51200 for photos). The camera's ultra sensitivity with clean, noiseless images was previously only possible with interchangeable lens cameras. With this new addition to the flagship family, Xperia brings this highly advanced technology to the palm of your hand.
With the Motion Eye™ Dual camera you can also express your artistic side. Select Bokeh[iii] and see your subject stand out from a defocused background, and take timeless photos in monochrome with a smooth gradation between black and white. The camera's low-light capability – as well as its artistic effects – are available for viewing with the live view-finder for an accurate representation of your subject.
The Motion Eye™ Dual camera also features more professional features, such as 4K HDR Movie recording, so you can capture reality in incredible detail and true-to-life color. Plus, you can record 960fps Super slow motion in HD or Full HD to make highly dramatic videos. Xperia XZ2 Premium also offers one of the best front-facing cameras on a smartphone with its 13MP, 1/3.06" low-light sensor and display flash – for outstanding selfies in any light.
Immersive viewing

Xperia XZ2 Premium has the ultimate display with a huge 5.8" 4K HDR (that's 11% larger and 30% brighter than our previous 4K HDR display), so you can immerse yourself in your favorite movies and content in crystal-clear detail and eye-popping color. Thanks to this display you can enjoy your own 4K HDR content (since this is the only smartphone capable of both creating and viewing 4K HDR). Plus, whether you're watching a blockbuster or a video on YouTube, Xperia XZ2 Premium uses Sony's BRAVIA® TV technology, X-Reality™ for mobile, to up-convert content to near High Dynamic Range (HDR) for more cinematic contrast, color, and clarity.
Not only can you see your movies with powerful realism, but you can even feel them thanks to Sony's brand new Dynamic Vibration System that analyzes audio data and lets you feel the action in your hands, bringing your movies, games, and videos to life. Xperia XZ2 Premium creates a cinema-like audio quality when you're sharing your favorite videos with your friends thanks to its powerful front-facing stereo speakers. Featuring S-Force Front Surround, they're our loudest Xperia speakers ever. Sony's audio expertise also enables sound enhancing technologies for Xperia, such Hi-res Audio, DSHEE HX, and LDAC.
Sophisticated design
Xperia XZ2 Premium's cutting-edge technology is packed into a fluid and elegant design. It has a 3D glass surface that surrounds the exterior to create a seamless finish that's comfortable to hold and easy to carry. With an exclusive glass and metal finish, this smartphone not only looks beautiful with a premium feel but is also designed to be durable thanks to Corning® Gorilla® Glass 5 on both sides. Xperia XZ2 Premium is IP65/IP68[iv] certified to withstand splashes and spills. It will be available in two contemporary colors: Chrome Black and Chrome Silver.
Ultimate Performance to the Extreme

Enjoy industry-leading performance with the cutting-edge Qualcomm® Snapdragon™ 845 Mobile Platform with X20 LTE. You will get immersive user experiences at lightning-fast connection speeds (up to 1.2Gbps) with the second generation Gigabit LTE solution. XZ2 Premium has 6GB RAM for additional speed and efficiency.
Xperia XZ2 Premium is built to keep you going all day with its high-capacity 3540mAh battery and Xperia's useful battery features, including Smart Stamina and STAMINA mode. Battery Care[v] and Qnovo Adaptive Charging technology help the battery stay healthy to give you a longer battery lifespan. Qi charging is enabled to power up effortlessly and works with the new wireless charging dock (WCH20[vi]) and other compatible Qi chargers.
Availability

Xperia XZ2 Premium is available globally from Summer 2018 and will ship with Android™ 8.0 Oreo.