Sony Xperia XZ1 Compact up for pre-order in the US for $600, ships on October 4
11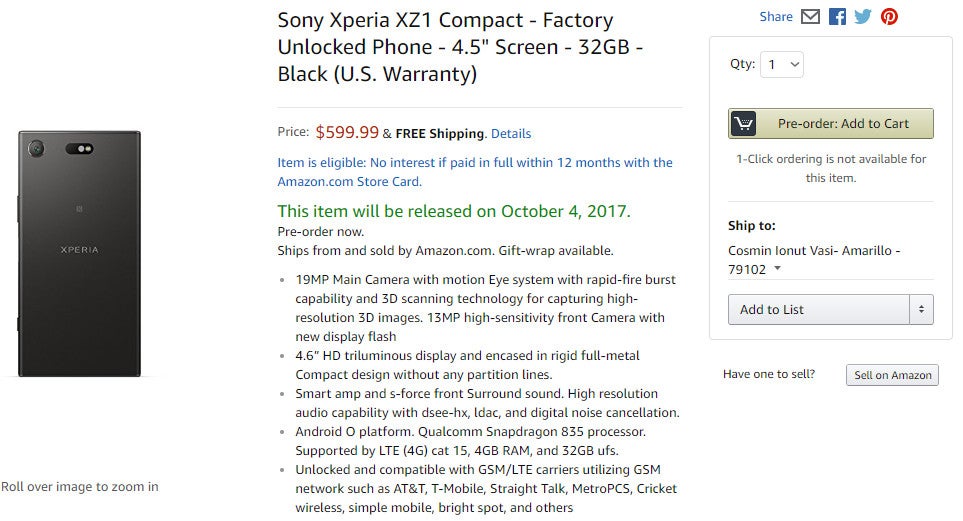 Sony's latest flagship smartphone, the
Xperia XZ1
made its debut in the United States
less than two weeks ago
. Starting next month, the more compact version of the Xperia XZ1 will be available for purchase in the country as well.
Customers who don't want to wait until the
Xperia XZ1 Compact
hits the shelves can now pre-order the smartphone for $600 via Amazon. The US retailer states the Sony's handset will be released on October 4, so customers who pre-order should have it next week.
In comparison, the Xperia XZ1 sells in the US for $700. Both Xperia smartphones come with
Android 8.0 Oreo
on board, but neither has the fingerprint scanner enabled due to a legal issue with Verizon.
Also, the Xperia XZ1 Compact, just like its bigger brother, comes unlocked and will work on all GSM carriers in the country such as AT&T and T-Mobile. Unfortunately, neither is compatible with CDMA network operators like Sprint and Verizon.
Keep in mind that besides the smaller display, the Xperia XZ1 Compact
comes with the same specs
as the regular Xperia XZ1 model, hence you'll be paying $100 less for the smartphone.