Sony Xperia XA2, XA2 Ultra, and L2 press renders leak out, rear fingerprint scanners included
18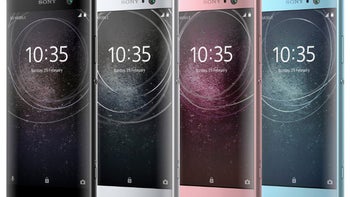 In 2017, Sony released no less than eight Xperia smartphones,from affordable to expensive models, and it looks like the company has similarplans for this year. While many fans are probably waiting for Sony's 2018high-end phones (which should include an Xperia XZ2), we're now going to talkabout the mid-range Xperia XA2 and XA2 Ultra, and the lower-end Xperia L2.
We've already seen leaked images showing the Xperia XA2, XA2Ultra, and L2. However, now, thanks to Venture Beat, we can take a look at press renders of the newhandsets - most likely, Sony will use these to promote the three phones once it announces them.
Unlike last year's Xperia XA1 and Xperia XA1 Ultra, whichare powered by MediaTek processors, the XA2 and XA2 Ultra will feature octa-coreQualcomm Snapdragon 630 chipsets. Both handsets should sport 1080p screens indifferent sizes: 5.2 inches on the Xperia XA2, and 6 inches on the Xperia XA2Ultra. The Ultra model should come with a dual 15 MP front-facing camera (with4K video) and a 21 MP rear camera, while the regular XA2 will have the samerear camera, but only a single 7 MP shooter on the front.
The Sony Xperia L2 may be powered by a Snapdragon 630processor, too, though its screen is expected to be a 5.2-inch one with just720 x 1280 pixels.
All three new Xperias have fingerprint scanners on the back, in a first for Sony smartphones. Apparently, only the XA2 and XA2 Ultra will run Android 8 Oreo out of the box,while the Xperia L2 is expected to be launched with Android 7 Nougat on board.
Sony will almost certainly announce the Xperia XA2 seriesand the Xperia L2 in the near future - either at CES 2018 (January 9 - 12), orat MWC 2018 (February 26 - March 1). Stay tuned!
source: Venture Beat