Sony Xperia X vs iPhone 6s: which has the better camera?
62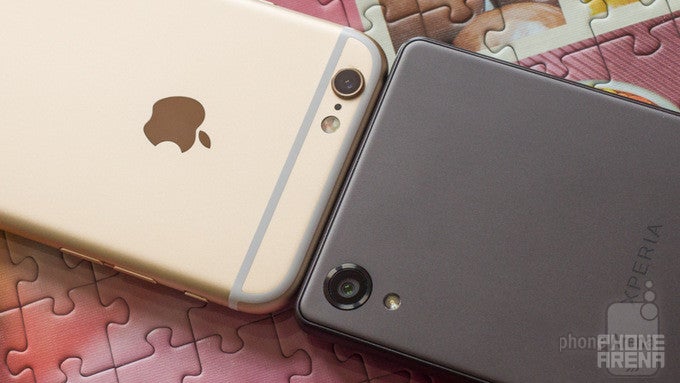 If in 1876 someone told Mr Alexander G. Bell that the telephones of the future would also take photographs, he would have probably laughed at their silly prediction. Yet here we are, 140 years later – everyone and their grandma now owns a phone with a camera. In fact, smartphones have long surpassed point-and-shoot cameras in popularity. That's likely why our smartphone camera comparisons draw the attention of so many of our readers and tend to spark heated discussions in the comments.
Today's camera comparison isn't likely to be any different. The star of the show is the
Sony Xperia X
– the company's latest leading phone. One of its key highlights is the 23MP main camera with super-fast autofocus, object tracking capabilities, and extra-wide field of view. Sounds great on paper, but its opponent, the
iPhone 6s
, is not one to be underestimated. Its 12MP camera is loved by millions of users for its ability to take great photos with ease, without the need to mess around with settings.
Here's an overview of what these two phones have to offer in terms of camera specs:
Camera Specs
Sony Xperia X
Apple iPhone 6s
Resolution and
aspect ratio
23MP @ 4:3
5520 x 4140 pixels
12MP @ 4:3
4032 x 3024 pixels
Sensor and
pixel size
1/2.3"
1.12 μm
1/3"
1.22 μm
Focal length
and aperture
24 mm
F2.0
29 mm
F2.2
Focus and
stabilization
Phase detection AF
Object tracking
Optical stabilization
Phase detection AF
Digital stabilization
It should be noted that while Xperia X boasts a 23MP camera sensor, we've taken the photos at 8MP of resolution and 16:9 aspect ratio. This is the default shooting mode set on the device and the one most people are likely to use. Also, the slide-over galleries used below contain cropped-scaled down photos for easier general comparison. The original, full-resolution photos can be found in a gallery at the very bottom of this article. With all of this cleared up, let us comment on some photos.
Scene 1: Before the storm
Someone got really wet soon after they took these photos, but the view of the storm cloud stampede was worth the discomfort. Anyway, right from the start, it becomes clear that the two cameras may have a strikingly different way of "seeing" things. The Sony Xperia X has gone for a colder tone, which is actually fitting for this particular scene, while the iPhone leans on the warmer side, as it tends to do. Overall, the Xperia's image gets closer to reality, while the iPhone's photo appears a tad forced and artificial in tone. As far as detail quality goes, both cameras have captured plenty of it, allowing us to zoom in and explore the images from up close.
Winner in Scene 1: Sony Xperia X
Scene 2: The flower shop
While it was pouring cats and dogs outside, we took shelter at a nearby store, and this flower stand made a great subject for our testing. At a glance, both photos look more than presentable, although we can't help leaning in favor of the iPhone's. Some of the highlights in the Sony Xperia X's photo are overblown, and detail isn't resolved as well. The latter is easily visible upon zooming in on the flowers. Overall, the difference in quality between the two images is slight, but we have to give this round to the iPhone.
Winner in Scene 2: iPhone 6s
Scene 3: Roses in the rain
Okay, we'll admit: we find great joy in taking photographs of pretty flowers. Here's another pair, this time taken from close-up range. We're glad to say that we have nothing to complain about, as both cameras have captured the image in great detail – zooming in for a closer look at the tiny droplets is a pleasure. Color accuracy is also spot-on, and we don't mind the slight boost in saturation visible in the iPhone's image. Furthermore, neither of the two cameras had troubles fixing the focus on the subject even though the breeze was rocking the rose back and forth.
The gallery below contains all of the photos used in this comparison – uncompressed, in their original resolution. On PCs, use double-click to zoom and the fullscreen option to get a closer look at the images.
Recommended Stories