Sony Xperia X vs HTC 10: which has the better camera?
48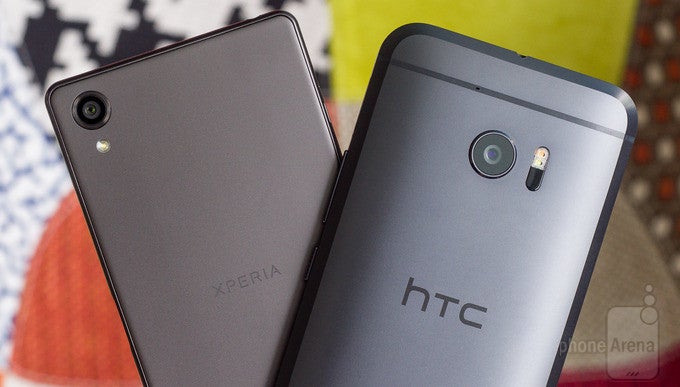 Make a quick guess: what do people photograph the most? Themselves, maybe? Or landmarks and artifacts like the Eiffel Tower or the Mona Lisa? Or perhaps we now mostly take photos of food and cutesy animals? Or of fingers accidentally placed in front of the lens? Whatever the answer, we're pretty sure that smartphones have helped us get there. Every model now has a decent camera that anyone can use, and boy, do people use their phones' cameras! Not all cameras are made equal, however, which is why we often do comparisons to find out which phone shoots best.
Two of our last camera comparisons put the
Sony Xperia X
against a couple of formidable opponents, namely the
iPhone 6s
and the
Galaxy S7
. Alas, Sony's new top phone lost both races, but we're now giving it another chance to prove itself. Today, we'll compare the Xperia X vs the
HTC 10
. Here's a quick overview of what the two phones have to offer in terms of camera specs:
Camera Specs
Sony Xperia X
HTC 10
Resolution and
aspect ratio
23MP @ 4:3
5520 x 4140 pixels
12MP @ 4:3
4000 x 3000 pixels
Sensor and
pixel size
1/2.3"
1.12 μm
1/2.3"
1.55 μm
Focal length
and aperture
24 mm
F2.0
26 mm
F1.8
Focus and
stabilization
Phase detection AF
Object tracking
Optical stabilization
Laser AF
Optical stabilization
Looking at specs alone, it seems like the HTC 10 could have the upper hand in low-light situations thanks to its larger pixels and wider aperture. On the other hand, the Xperia X has the megapixel advantage, with almost twice the megapixels to work with. However, it should be noted that while Xperia X boasts a 23MP camera sensor, we've taken the photos at 8MP of resolution and 16:9 aspect ratio. This is the default shooting mode set on the device and the one most people are likely to use. As for the HTC 10, it shoots 12MP stills by default.
We must also point out that the slide-over galleries used below contain cropped, scaled down photos for easier general comparison. The original, full-resolution photos can be found in a gallery at the very bottom of this article. With all of this cleared up, let us comment on some photos.
Scene 1: The mansion
One thing's clear: these two cameras have their own opinions as to how things should appear in this particular scene. The Sony Xperia X has gone for a slightly overexposed look, and its photo has this cold tone to it, which we don't find pleasing. In contrast, the HTC 10 has delivered a warmer image. Neither of the two is spot-on when it comes to color and tone accuracy – the truth is somewhere in the middle between the two photos.
Detail appears to have been captured better by the HTC 10. If we zoom in on its photo, we see that there's a bit too much sharpening going on, but it still looks better compared to what the Xperia X has managed to preserve. Sony's phone seems to be having trouble resolving fine detail, which is why things might look smudged across many areas of the photo, especially if go you go further away from the center. At the end of the day, we'll give this one to the HTC 10 since its photo looks less bad overall.
Winner in Scene 1: HTC 10
Scene 2: At the flower shop
Again, the Sony Xperia X is treating us to a slightly colder image, just like it did in the previous scene. This is why we lean towards liking the HTC 10's photo better – it is more natural, more pleasant to look at. From up close, details in the Xperia X's picture are smudged. The HTC 10, on the other hand, adds plenty of sharpening to enhance them, which is not the best approach, but the results are still better compared to those from the X.
Winner in Scene 2: HTC 10
Scene 3: After the rain
In all honesty, we find this pair of images really nice to look at, but then again, there's something likable in pretty much every close-up shot. These two photos, in particular, contain plenty of detail that we can explore by zooming in. If there's anything we would change about them, we'd probably reduce the amount of sharpening added by the HTC 10. Overall, for this scene, we're calling it a draw.
The gallery below contains all of the photos used in this comparison – uncompressed, in their original resolution. On PCs, use double-click to zoom and the fullscreen option to get a closer look at the images.