Sony Xperia M2 Aqua appears at the FCC, possibly a water-resistant Xperia M2
7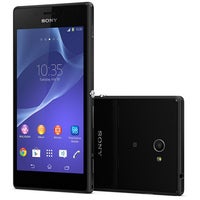 Earlier this year, Sony announced the
Xperia M2
– a 4.8-inch mid-range Android smartphone with LTE connectivity. Now, it looks like a slightly upgraded variant of the M2 could be coming soon. How do we know? Well, as we were digging through the FCC's database for any newly-listed handsets, we came across a couple of Sony handsets with model names PM-0770 and PM-0771. After further digging on the web, we found an XML file on Sony's web site revealing both smartphones' name – Sony Xperia M2 Aqua.
So basically, it appears that the Sony PM-0770 and PM-0771 are two variants of this yet-unannounced, Android-powered Sony Xperia M2 Aqua. Judging by the marketing name, the handset in question is probably going to be water resistant – a trait that the original Xperia M2 lacks. Both models have Wi-Fi a/b/g/n, Bluetooth 4.0 LE, ANT+, NFC, and GPS connectivity. Even an FM radio is found on the two. The LTE Bands that they support, however, are different. The PM-0770 supports LTE bands 1, 3, 5, 7, 8, and 20, while the PM-0771 can run only on bands 2, 4, 7, and 17.
Specs are not being listed in the FCC's documents, as usual. But we do believe that hardware-wise, the Sony Xperia M2 Aqua will be very similar to the Xperia M2. As for their size, the M2 and M2 Aqua are pretty much identical, judging by what is indicated in the papers.
That's all we know about this Sony Xperia M2 Aqua right now. We'll update you in case we learn more. In the meantime, you may check out our
Sony Xperia M2 review
.