Sony Xperia M2 Review
33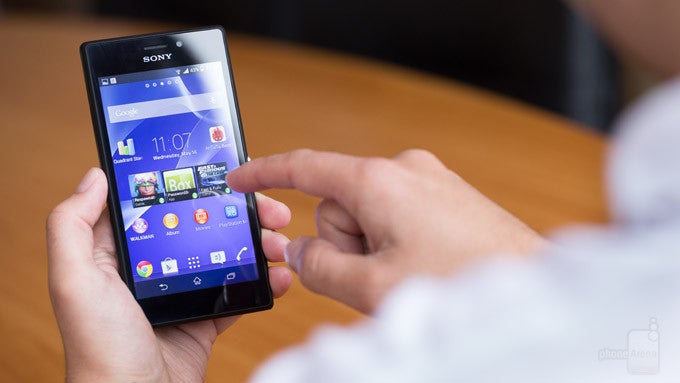 Introduction
Building upon its existing M line, Sony is adding the still minty-fresh
Xperia M2
to its mid-range roster of devices. The M2 is very similar to its predecessor in a bunch of ways, but also quite different in one particular aspect: screen real estate has made a humongous jump from 4 to 4.8 inches.
Outfitted with a quad-core Snapdragon 400 chip from Qualcomm and 1GB of RAM, along with an 8-megapixel Exmor RS sensor, the M2 will strike you as a very decent, middle-of-the-road handset. And that's precisely where Sony is aiming the M2 at. Let's see if it delivers on that promise.
Design
Sony's attractive OmniBalance design is tested and true.
On the outside, nothing really distinguishes the Xperia M2 from the current Sony crop of smartphones, and it's probably safe to say that this is a deliberate effort. Indeed, Sony's OmniBalance design language has been well received by critics and consumers alike, but it would be wrong to say that the M2 didn't go through certain design changes when compared to its predecessor.
At the front, we're looking at some noticeable bezel slim-sizing, allowing for a relatively smaller footprint, despite the larger screen. At the top, you'll find the earpiece and front-facing camera, of course, but also a small, circular notification light. On the right side of the device, we have a two-step shutter key, a volume rocker, and a power button, with only the latter one providing satisfying tactile feedback and travel time. Turning the M2 around, we see that the convex-shaped rear shell of its predecessor is gone, and a perfectly flat, plastic back has taken up its place. Lastly, the loudspeaker can now be found at the bottom side of the M2.
Display
Overly-cold display with a reflective glass on top that hampers outdoors viewing.
The Sony Xperia M2 made a considerable jump in screen size over its predecessor, and its LCD TFT display now measures in at 4.8 inches. Unfortunately, the 540x960 (qHD) pixel resolution of the panel actually results in a slightly inferior pixel density of about 229 ppi.
Turning away from specs-rehashing, let's talk quality. Color temperature, at over 11000 K (6500 K is the reference value), is overly cold, so whites and different shades of gray have a blue tinge to them. Overall color reproduction is decent, even though colors like red tend to be over-saturated a bit. The rest of the color spectrum is mostly rendered well, with acceptable deviations from the reference states. Gamma, at 2, is also alright, though it does result in a less-contrasty image with somewhat overly-bright highlights.
Lastly, maximum brightness is quite acceptable for this class at 461 nits, though the reflective glass on top does limit how much of the display we can make out under direct sunlight. That is to say that it is readable, but you'll be squinting every now and then.
Display measurements and quality