Sony Xperia 1 price revealed by British online retailer that's now taking pre-orders
11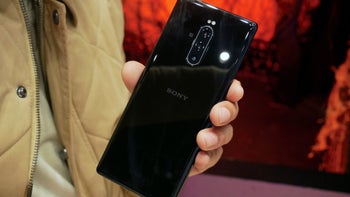 During MWC '19 a couple of weeks ago Sony announced four new smartphones with a new styling created around its "CinemaWide" displays with a 21:9 aspect ratio. As with every unconventional design, there were some that loved it and some that hated it. Of course, the most interesting phone of the bunch was the flagship:
Xperia 1
.
Sony revealed pretty much everything about its new top device, from the aforementioned display to the Snapdragon 855 that's powering it and even some of the new software features that were implemented to make use of the tall screen (check our
hands-on
for more). What the company didn't say was how much the device would cost and when will people be able to buy it.
It appears that we now have those two final pieces of the Xperia 1 puzzle, thanks to the UK retailer Clove (and
XperiaBlog.net
). We don't know if Clove launched their
Xperia 1 page
earlier than planned but either way, it's now taking preorders for Sony's new flagship and naturally, that requires a price!
The Xperia 1 is listed for 707.50 GBP without VAT (around $925) and 849 GBP with VAT (around $1,111). VAT doesn't really interest us since it varies a lot, so let's focus on the price without it. $925 is obviously just a direct conversion and we know that phones and other tech products are often a bit pricier in Europe than they are in the States. Which means that the most likely us price for the Xperia 1 will be $899.
Unsurprisingly, $899 is also the price for the Samsung Galaxy S10. This tells us two things. First, Sony won't be pricing its 2019 flagship more aggressively than usual and second, the Xperia 1 will have to compete against one of the best phones of the year with few advantages (if any) at its disposal.
What's even worse for Sony is that, if the website listing is correct, the first Xperia 1 shipments are expected towards the end of May. That's roughly three months from now. By then, millions of potential Sony customers would have already bought one of Samsung's flagships and forgotten about the Xperia 1 altogether.
Overall, things aren't looking great for the Xperia 1, to say the least. We're not sure how many units Sony is hoping to sell, but it seems like its phones are becoming more and more niche products that only the most loyal fans of the brand are buying. We'd be happy to be proven wrong, however.