Sony Vaio Tap 11 Hands-on
10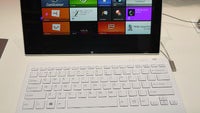 The sleek and shiny
Xperia Z1
wasn't the only device that Sony managed to attract our attention with. At IFA 2013, we also had the chance to give the new Sony Vaio Tap 11 a quick try. For those who've missed the news, that's the "world's thinnest Windows 8 tablet PC" powered by an Intel Core processor. Sony has managed to trim down its waistline to just 9.9 millimeters, which is actually quite good considering the hardware inside this one. But more on that later. Let's first say a few words about the way the device looks and feels.
Design
While the Sony Vaio Tap 11 is pretty far from being the thinnest or lightest tablet ever, it definitely beats its Windows 8 counterparts in these two categories. Unlike many Core-based Windows tablets that we've tried over the past months, it really feels light, or at least light enough to be comfortably held single-handedly for more than a couple of minutes. And in case your wrist gets tired eventually, there's always the option to extend the tablet's kickstand and place it on a flat surface – a neat feature found on just a handful of tablets today. With a thickness of less than a centimeter, the Vaio Tap 11 shouldn't take up much space in your messenger bag, although its size and weight go up if you have its wireless keyboard magnetically attached to it.
Speaking of which, the Tap 11's physical keyboard feels quite okay and the keys are laid out well enough for typing at a decent speed. The keys have good trave considering how slim the keyboard actually is. A touchpad of average size is present as well. When the device isn't in use, the keyboard can be attached to the tablet and serve as a protective cover while its internal battery charges, sucking power straight from the tablet's cell. However, the battery inside the keyboard isn't made to provide the tablet with extra juice.
The Sony Vaio Tap 11 unit on display felt less like a retail model and more like a prototype so we can't yet comment on its build quality. The build material of choice is white or black matte plastic – it doesn't feel premium, but it isn't bad either. As a whole, the device follows Sony's OmniBalance design principles. Even the power and volume keys look a lot like the ones on Sony's recent smartphones.
You get an HDMI-out and USB 3.0 ports with the Sony Vaio Tap 11, along with a microSD card slot. These are protected by removable covers, which is great for keeping the profile of the device looking sleek.
Along with the Vaio Tap 11, Sony is bundling a pressure-sensitive stylus, which can be used for not only occasional doodling or note-taking, but also for professional photo editing. Drawing and photo-manipulation apps are included out of the box, but the accessory should work with other commercial software products as well.
Display
The Sony Vaio Tap 11 has an 11.6-inch display with a resolution of 1920 by 1080 pixels (1080p). It looks quite nice, actually – not the most detailed we've ever had the chance to see, but hey, that's still a decent amount pixels for a panel of this size. Sony's Triluminos technology is present as well and it shows. Colors on the screen are represented with great fidelity and the contrast levels are more than satisfactory.
Interface
We have Windows 8 running on the Sony Vaio Tap 11 and it doesn't feel any different from what you'd get on another tablet running the OS. Upon boot-up you're greeted by the Start Screen with its live tiles serving as shortcuts to apps, all the while displaying various bits of information. The classic desktop is also available at the tap of a button. Since this is Windows 8 and not its trimmed down version known as Windows RT, the legacy software you have already should work just fine on the Sony Vaio Tap 11.
Processor and memory
As we mentioned above, the Sony Vaio Tap 11 has a Core processor under the hood. It is a last-gen Intel Core processor, to be more specific, so it is going to be as powerful and power-efficient as Core processors can get. The demo unit we checked out had a Core i5 inside it, along with 4GB of RAM, but speedier and more budget-friendly configurations will be available as well. Storage-wise, an SSD of up to 512GB may be outfitted on the Tap 11. During our quick testing of the device we did not notice even the slightest hint of lag, which is great news.
Camera
From the looks of it, the main camera on the Sony Vaio Tap 11 might be actually usable. It offers 8 megapixels of resolution and the presence of an Exmor RS sensor means it should take at least okay-looking low-light photos. There is no flash, however. Of course, there's a front-facing camera as well, which makes video chats with this device possible.
Expectations
Clearly, the selling point of the Sony Vaio Tap 11 is that it is a slim, yet powerful Windows 8 tablet. It looks great, it doesn't take much space, its keyboard is relatively comfortable to work with, and you get a handy dandy stylus for drawing moustaches on people in photos. Plus, who can resist that kickstand? But the weak link in the chain might turn out to be the device's battery life. Sony is promising six hours of usage on a single charge – a figure that will probably vary depending on what configuration has been picked and how much the tablet is being pushed. Of course, a six-hour battery life isn't terrible, but it is below what similarly powered Windows 8 tablets may be able to provide. Nevertheless, the Vaio Tap 11 is shaping up as a pretty neat Windows 8 tablet and something we'd surely like to spend more one-on-one time with.