Sony S1 Tablet will most likely hit the shelves next month as the Sony Tablet S
2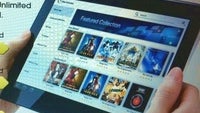 The Sony S1 Tablet has been doing quite a lot of posing for the camera lately. Not only that it starred in a
series of teaser videos
along with its little sibling, the
S2 Tablet
, but
it also appeared more than once
in the hands of a few lucky people who were lucky enough to get a taste of it before anyone else. Well, it is all happening over again as a bunch of spy shots reveal some of the few remaining mysteries surrounding the Sony S1 Tablet.
The leaked images indicate that
the S1 Tablet will be simply known as the Sony Tablet S
when it hits the market. Furthermore, its debut will take place in September, which lines up seamlessly with the company's promise to release the device within that time frame. Other clues that the spy shots reveal include the tablet's ability to act as an infrared remote control and to stream media wirelessly thanks to its support for DLNA connectivity. There will be a 5-megapixel main camera on the tablet's back and a 3-megapixel front-facing shooter will let you enjoy lengthy video chats with your buddies.
In terms of software, Andoroid 3.1 Honeycomb will come out of the box, yet it seems logical to assume that an update to 3.2 or Ice Cream Sandwich is is scheduled for release in the near future. In addition, the Tablet S will be able to take advantage of Sony's Music Unlimited and Video unlimited services, as well as to run classic PlayStation games, some of which will come pre-loaded on the tablet.
Unfortunately, there is still no word in regards to the device's pricing, though some are speculating that its price may be somewhere near the $600 range. Well, it better be worth its money unless it wants to follow in the footsteps of the HP TouchPad.