Sony Honami mini is real: first image and specs surface in Japan, phone to be called Xperia Z1 f
58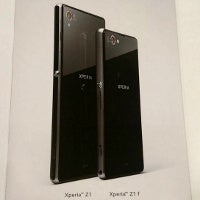 The Sony Xperia Honami mini is a device we've been hearing about for a long time - a compact yet powerful Android, the first of its kind, and now we've gotten the first truly veritable leak about its real existence. The Honami mini appears in the catalog of Japanese carrier NTT DoCoMo and there is a picture of it as well.
The Honami mini is referred to as the Xperia Z1 f (SO-02F), and shows a handset made out of glass and looking like a smaller Xperia Z1. The Z1 f is allegedly featuring 4 differently colored versions - a black, white, pink and yellow ones.
So what is it? By all looks, it is a dream come true for those who dream about a more compact Android device with the specs of the latest flagships. Inside a 4.3" display, Sony has crammed in the most powerful Snapdragon 800 chip and the same no-compromise 20.7-megapixel camera as in the Xperia Z1.
Here is a break-down of the Sony Xperia Z1 f specs:
4.3" 720 x 1280 pixel display
2.2GHz Snapdragon 800 system chip
20.7MP main camera, 2MP front camera
Dimensions of 127mm x 64.9mm x 9.4mm (X x Y x Z)
IP55/58 water and dust resistance
2GB of RAM
16GB of internal storage
2300mAh battery
This is quite a stellar package, don't you think? Take a look at the leaked images right below - they are in Japanese, but the important details are easy to understand without knowledge of the language.
source:
Xperia blog