Sony Ericsson starts a trend, launches its own app channel in Android Market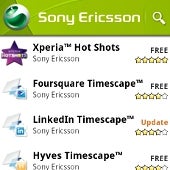 Sony Ericsson officially becomes the first cell phone manufacturer to launch its own
app channel
in Android Market. It is a carrier-dependent feature, from what we understand, so not everywhere the My Apps option will be replaced by the Sony Ericsson channel, but it should have started rolling out as we speak. My Apps is still there, you just have to hit the menu button to access it, as it seems.
The idea is to group all apps that are specifically designed for the company's handsets, under one roof. We bet this is a precursor to offering phone-specific apps too (nudge, wink,
Sony Ericsson Xperia Play
), like exclusive titles for the only Android handset with a dedicated game controller. As per Sony Ericsson, its own Android Market channel will:
" -
Provide recommendations to help you find the best games & apps that enhance your Sony Ericsson 'most entertaining' experience.
- Provide a way to easily find original apps from Sony Ericsson such as Timescape plugins etc.
- From time to time offer exclusive games & apps only available in this channel.
- Help our developer partners promote their apps & games giving them a highlighted market space to our consumers.
"
We are already marking a trend here, with phone and
chipset manufacturers
, as well as other entities, creating their own tidy little universes inside the ragtag Cosmos of Android Market, all in the name of product differentiation.
source:
SonyEricsson