Sonim makes claim of world's longest talk time
8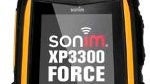 Sonim, makers of some seriously ruggedized phones, have made an announcement at the Mobile World Congress of a new phone that they claim has the world's longest talk time of a whopping 22 hours.
The phone is called XP3300 Force. Powering the phone is a large 1750mAh battery. The reasoning behind this absurd amount of talk time might have to do with the fact that this phone is really, well, just a phone. It does not pack WiFi or 3G data services, but you probably wouldn't need them anyway for the excursions that this device is intended for.
It has a 2-megapixel camera on the back of its husky body and a 2-inch display on the front. It looks very similar to some of Sonim's offerings from the past. Furthermore, this phone can be operated in extremely freezing temperatures as cold as -20°C and can deal with water submersion. Oh and if you don't use this phone to talk all that often, its standby time will get you about 33 days' worth battery life. That's pretty impressive, right? Tell us what you think in the comments below.
source:
Reg Hardware