Some iPhone 4 pre-orders may arrive on June 23, Walmart getting its units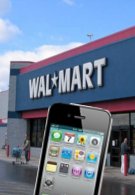 In what seems to be a great turn of events for some iPhone 4 early adopter wannabes, a bunch of lucky guys are reported to have received emails saying that they will probably get their smartphones a day earlier than expected - on June 23. That's great news for those lucky few (okay,
not really few
) who managed to get past
AT&T's collapsing system
and successfully pre-order one. Here's the full text of the email:
"Dear Apple Store Customer,
You recently received a Shipment Notification email from Apple advising you that your iPhone has shipped.
This email is to confirm that your delivery will occur on June 23rd. Although Apple and FedEx tracking information may currently indicate a later date, you can check the FedEx website the morning of the June 23rd to track your package to your doorstep.
In the event that you will not be available to accept delivery on June 23rd, it may be more convenient to use our pre-sign delivery option by visiting our Order Status website at http://www.apple.com/orderstatus.
Sincerely,
The Apple Store Team"
On another note, the much loved and hated (at the same time) gadget has also arrived at Walmart, and there's also a picture of the retail box to confirm that. Keep in mind the retailer has
forgone the pre-ordering process
and will simply let customers fight each other to the death on launch day - June 24 - 'till the very last available unit is sold.
Apple iPhone 4 Specifications
MobileCrunch
and
Engadget