Some great Android and iOS games with slashed prices!
2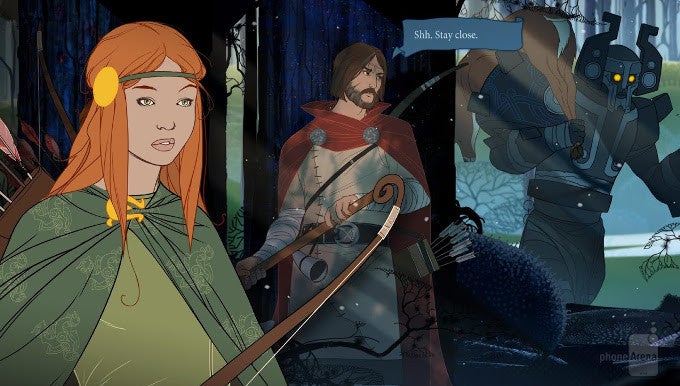 Hey, there mobile gamers. Need a fix of some quality time-burners? Well, we combed through all the recent discounts in the App Store and Play Store, looking for some fun titles, and lo and behold – there are quite a few fun ones. We've written about some of these before, but hey – if they're discounted again, we'll announce it again, as they are some pretty entertaining titles.
So, a bunch of puzzlers, adventures, and a couple of arcade games lie ahead. Dive in and let us know which game caught your fancy, and how you like it!
Violett
Download
A beautifully drawn adventure game with its own wacky, dreamy atmosphere. The game will tell you the story of bored teenage girl Violett, who passes through a rabbit hole, much like another heroine that we know oh-so-well. The world on the other side is a strange and quirky one, full of puzzles, which you'll be tasked with solving. For $1, fans of the genre shouldn't hesitate much.
Oscura: Second Shadow
Download
Oscura is a dark platformer, based in a twisted fairytale-sort of world. The game's graphical style leans on silhouette representations of both the environment and the characters. As far as controls go, they translate to touch fairly well, as makers claim the game was developed with mobile in mind. A great platformer, which will surely challenge even fans of the genre.
Iesabel
Download
Iesabel is a dungeon crawler available for PC and Mac as well as Android and iOS. It's built on the same recipe that can hold a dungeon crawler together for both campaigning and just grinding – an interesting story, various player classes, 8-player (cross-platform!) co-op, and lots of monsters to kill. Unfortunately, it doesn't seem to support controllers, but if you are not one who hates virtual joysticks and buttons – you may enjoy this game.
RE-VOLT Classic 3D
Download
A classic game from the '90s that involves RC car racing with dirty tricks, such as laying oil traps, throwing balloons, rockets, or just plain electrocuting the opponents' cars until they stop. The game has a
Multiplayer-enabled version
, which is free and offers cars as in-app purchases. If you are one who prefers the singleplayer experience, grabbing the premium version of RE-VOLT is now possible for $1.99.
Botanicula
Download
Botanicula is an entrancing adventure, in a beautiful graphical and sound style. You control a group of little tree creatures in their adventure to save their home tree from evil parasites. Expect some puzzles, lots of humor, and a great atmosphere.
Banner Saga
Download
A strategy / RPG mix based on old Viking folk tales – the Banner Saga was released last year and was met with positive receptions from critics and gamers alike. It's been released on lots of platforms and translates successfully to tablets, or large-screened handsets. The game engages players, as every decision and every battle shape the story itself, which adds lots of replay value.
Space Age: A Cosmic Adventure
Download
Presented in a retro pixelated style, Space Age looks to offer an adventure game as an experience, rather than being a challenging headbanger. This is, by all means, not a bad thing at all – especially since the game has a lot of mystery and intrigue about it. In terms of gameplay – you'll see some strategy, some stealth, some search and discover, and some combat.
Machinarium
Download
Machinarium is created by the same developer that made Botanicula, so expect the same – a weird world, created beautifully in both graphic style and sound elements. A brain-twister, which offers each of its levels as a separate screen – you solve a puzzle, you move on to the next screen. If you enjoy banging your head, looking for a solution to abstract riddles – we'd say go ahead and grab Machinarium.
Back to Bed
Download
Back to Bed is a fun little puzzler that takes us to yet another abstract, weird place – a man's dreams. In each level, we find ourselves on an intricate platform, hovering in space. Upon it is Bob the sleepwalker, who walks straight until he either bumps into something or falls off the platform. You play as Subob – Bob's subconsciousness, represented as a weird dog-like creature, and your mission is to navigate the platform and place obstacles in Bob's path in such a way that he safely makes it to the exit of the level (which is his bed).
Rules!
Download
Rules! is a memory / hand-eye coordination exercising puzzler that makes for a nice quick play, whenever you've got some minutes to burn. If you like a game to massage your brain once in a while, we'd recommend Rules!.