Some Apple Watch Sport units' logo and text reported to easily peel off
16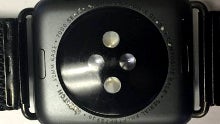 Oh, Reddit, don't become a publicly traded company, as we will lose your charm when it comes to whining about issues nobody thought to raise in threads and subthreads. This time around, the issue is the Apple Watch, namely the Sport edition, having the Apple logo erased completely from the back, and the surrounding text peeling off in a few short months of ownership.
Apart from the Reddit threads that have been running for a while now, the issue has been raised with Apple Support as well, and logged as a case number, so there will be further developments on the matter. Apple has reportedly called the owner back, and will be swapping their Watch for a new one, so that their engineers can study why this is happening.
There have been questions about the weather in the places of usage, eventual water damage, or activities that the owner has undertaken with it, so that Apple could gauge better why has this been happening with what seems to be only the space grey version of the Watch Sport.