Some Amazon Kindle Fire owners are experiencing bugs with Wi-Fi and internet connectivity
6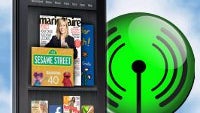 There's no kidding that Amazon has a hit with itsimpressively priced $199.99 Kindle Fire tablet, especially when it boastsplenty of lovable qualities on the inside and out, however, it appears asthough some owners are experiencing one nasty issue than renders it almostunusable.
Seeing that internet connectivity is what drives most of thecloud based services with the Kindle Fire, any sort of disruption to thatflowing stream can result in some serious limitations. Well, there are someowners reporting that they're unable to connect to the internet – and in somecases, they can't even connect to any Wi-Fi hotspot whatsoever.
Of course, it's going to raise some concern, especially whenowners say that other devices connected to their Wi-Fi network are able toestablish an internet connection – whereas, there's nothing going on with theKindle Fire. Another person has mentioned speaking to an Amazon customersupport rep, who mentions that it was a "known issue" and that they 're in theprocess of resolving the problem – yet, the issue continues to happen for some.
Luckily, for those affected owners who recently managed toinstall the latest update for the tablet (version 6.2), they're reporting that ithas corrected the connectivity bug – though, the update doesn't explicitly saythat it fixes any sort of Wi-Fi bug. Nonetheless, it seems to work out for manypeople, so it doesn't hurt to give it a shot.
Have you been experiencing any of these nagging connectivityproblems with your Amazon Kindle Fire?


via CNET