Solar Walk app for Android takes our minds off earthly matters with an interactive trip around the Sun
1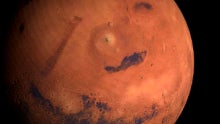 Google's push for educational Android apps is undoubtedly aiming towards larger adoption of phones and tablets with its mobile operating system in the classroom, where
Apple has taken a stranglehold
with projects like iTunes U and the like. If a new app, called Solar Walk, is any indication, Android is slowly on the way to its goal, despite that the developer Vito Technology charges for its offspring. Of course, there is a free version, but it only includes Saturn, if that's your thing.
Solar Walk has been available on iOS for a while, and takes us on a breathtaking journey through our own solar system, showing all planets and satellites with their correct positions in real time. The developer has tried to do your three bucks justice, and has created beautiful interactive 3D renderings of the celestial objects, too. The educational aspect comes in when you choose a planet or a satellite moon, and all the important info about it gets on display - its name, mass, radius, distance to the sun, internal structure split, and even the science missions around it.
You can shuttle back and forth around our precious solar system, zooming in and out with such quality graphics and interface, that Solar Walk might very well be used as a teaching tool in an astronomy class. We guess that this has been the whole point, and the developers can congratulate themselves on creating a great educational app that displays Android's potential in the field.
| | |
| --- | --- |
| Developer: Vito Technology | Download: Android |
| Category: Education | Price: $2.90 |