$4 billion Apple iPad deal on the line as Tim Cook visits Turkey
6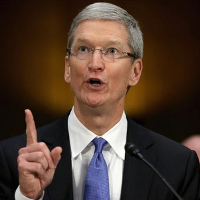 Based on the website of Turkey's president Abdullah Gül, the latter was supposed to meet with Apple CEO Tim Cook starting 4am EST this morning. While we have no indication that the meeting has ended, at stake is a possible $4 billion in Apple iPad orders. The tablets are being sought for the country's FATIH project which replaces traditional classroom tools with newer technology like tablets.
The meeting between Cook and President Gül had been planned back in December
, and the Apple CEO's trip to Turkey was timed to coincide with the opening of the first Apple Store in the country. In October, Apple turned the switch on its online store in the region, and now has a physical 21,000 square foot retail location at the Zorlu Center in Instanbul.
As we mentioned back in December, the initial stage of the agreement covers 10.6 million units of the Apple iPad, with subsequent shipments of 2 million to 2.5 million to take place over a four year period.
Both sides visited each other, starting with last year's visit to Turkey by Apple's VP of Education John Couch. That was followed by a trip to Cupertino by Turkey's Prime Minister Recep Tayyip Erdoğan, who wanted to check out the tablet before placing orders for the device.
source:
Govt.ofTurkey
via
AppleInsider