SoftBank willing to give up control of combined Sprint-T-Mobile?
6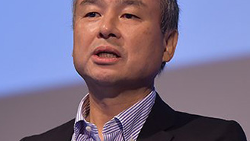 There are a number of things that have become roadblocks to a possible merger of U.S. carriers Sprint and T-Mobile. More than two years ago when the subject was last discussed by the two wireless firms, U.S. regulators let it be known
that the deal would not clear the FTC or the FCC
. But since then, a couple of important things have happened. One,
T-Mobile hopped over Sprint to become the third largest stateside wireless operator
. Two, insiders familiar with Sprint's thinking say that its majority owner SoftBank is now willing to give up control of Sprint to Germany's Deutsche Telekom. The latter owns 65% of T-Mobile and is not interested in giving up any of that stake.
During the two-years since the last failed attempt at a hookup between the two carriers, T-Mobile's value has risen from $30 billion to $50 billion and the carrier has become the most innovative in the states. Sprint's valuation has remained steady at $36 billion over the same time frame. While the regulators could still make noise and block a potential deal, the Federal Government is under new management. While President Donald Trump has gone on record as being against AT&T's proposed purchase of Time Warner,
he might consider a combined Sprint-T-Mobile to be a welcome challenger to the duopoly at the top
of the industry.
And the word from inside sources that SoftBank is fine with giving up control of the merged company is huge. It is a concession from Sprint that T-Mobile's management team (led by president and CEO John Legere) is the superior one of the two. While SoftBank owns 83% of Sprint, it is willing to heavily dilute that percentage in order to make a deal work. After Reuters reported on SoftBank's rumored willingness to let go of control, the shares of both firms soared. T-Mobile closed up 5.5% at $63.92. Sprint closed at $9.30, up 3.33% percent.
SoftBank and Deutsche Telekom are not allowed to discuss a deal with each other yet because of the ongoing FCC auction of 600MHz of spectrum. Federal anti-collusion laws prevent the two from holding talks of any kind until the auction ends, which is expected to take place in April. Once the long drawn out auction is complete, SoftBank will be legally allowed to talk to Deutsche Bank about a merger.
source:
Reuters