Snapseed HDR Scape Hands-on
5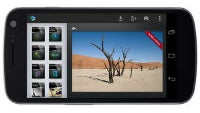 Today was a big day for Google+ photo and video capabilities, but the event that was live-streamed from San Francisco wasn't totally focused on Google+. A big section was dedicated to Google's other photo tools that it acquired when it bought Nik Software, including Snapseed. The single big addition to Snapseed was the
HDR Scape
option.
Google's promise with the update was to give users a new way to create high-dynamic range (HDR) photos without having to use the "approximation" that is done with most camera apps. Most camera apps take three images - one at normal exposure, one at -2 stops exposure, and one at +2 stops exposure - then compare pixel colors and mix the three images together to create the HDR effect. Of course, that only covers a range of 5 stops, but the human eye can see a range of about 15 stops, which is why Google's Vic Gundotra called current technologies an "approximation" of HDR.
With Snapseed's new HDR Scape feature, Google says it is using a much more sophisticated process that compares the pixel-edge contrast in order to adjust a single photo to be HDR. I have tested out the new feature a bit, and wanted to show you what I've found using my own pictures as test subjects. Most of the test images were taken with a Nexus 4.
Obviously, the first thing to test out was Vic Gundotra's claim that the process doesn't work well on human faces, but really, it all depends on what kind of picture you're trying to create. If you want something that looks almost like a comic book, Snapseed works pretty well on that front, but if you're striving for enhanced realism, it is definitely not the best option in the HDR world. For example, a couple pictures from a recent trip to the Google campus and Hollywood:
As you can see, Snapseed definitely does a lot of processing. Of course, these test images are a bit exaggerated on top of that because these are done with 100% intensity on the HDR Scape filter. The app defaults to about 80%, but even that felt like too much on a lot of images. It seemed like about 50% was as high as you could go before the process started getting away from you.
The problem with Google's new advanced process is that it works best with higher quality images. If an image is noisy or has lens flares to begin, those issues will be intensified. A good example is with the Android statue image above, where the lens flare is greatly intensified. Here's another example from Negril, the first image is the original, then there is 50% strength and 100% strength of the HDR Scape filter:
As you can see, the lens flare from the sun ends up blowing out the picture. The other issue that is the real trouble for Snapseed is noise. In general, mobile phone cameras can't avoid noise in photos. Cameras are getting better quickly, and there are plenty of cameras that can spit out images where you wouldn't normally notice the noise; but, once you start a heavy processing filter those issues will suddenly become very noticeable. And, if you intend to use Snapseed's HDR Scape filter at all, you had best make sure you remember to never use the HDR function on your camera when shooting, because the processing mechanism on your phone will create noise, and that will be intensified with Snapseed.
That can be a hard thing to keep in mind, because when you're in a place like Jamaica, or the California coast (below), you'll want to shoot HDR, but you'll have to hope that your camera will give you the best output, because it could create a lot more noise once you drop that photo into Snapseed, as you can see in the sky in these pictures here:
All that said, if you have pictures that don't have much noise, and weren't originally shot in HDR, you can get some pretty amazing output from Snapseed. The key, as mentioned before, is to not push too far. By default, it feels like the app wants to push a bit too far by putting the strength at 80%. Maybe that is just because the Nexus 4 camera isn't the best available, or it could be the process itself.
Another thing to keep in mind when adding the filter is that the higher the filter strength, the more objects in your photos will start to glow. That's one of the more annoying side-effects of the heavy processing is a slight halo effect which will make your images much softer than you may want, so be judicious in how much you use the HDR Scape filter. To help illustrate, some of the photos in the set below have been split into original/50%/100% filter.
Here are the last examples, but given how easy it is to do, you could try this out quickly on your own. The Snapseed update is available for both
iOS
and
Android
right now.