Snapdragon 835 reference device benchmark results show strong CPU and GPU performance increases
44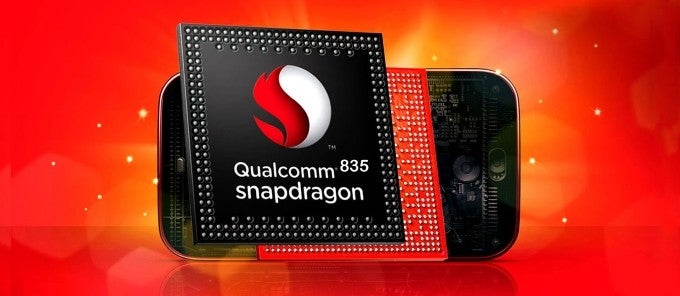 We've already seen the high-end Snapdragon 835 battle it out in benchmarks, but this occasion is especially informative in terms of what to expect from the premium chipset. David Ruddock from Android Police spent some quality time at Qualcomm HQ and thoroughly benchmarked a Snapdragon 835 reference smartphone, along with several handsets running previous-gen flagship chipsets.
Of course, comparing the Snapdragon 835 results to those of the Snapdragon 821 and the Samsung Exynos 8890 processors is of most interest to us, as they are the most ubiquitous chips for flagship Android smartphones in Western markets. Their test results were obtained on a
Google Pixel XL
(with the Snapdragon 821 chip) and the
Samsung Galaxy S7
(with the Exynos 8890 chip).
Based on David's results, we can make reasonably accurate assumptions about the Snapdragon 835 chip's CPU and GPU performance increases over last year's most prominent high-end processors. We can even compare some of the results with preliminary benchmarks of the Samsung Exynos 8895 powering some
Galaxy S8 and S8+
models.
Mind you, though, everyone follows different procedures for taking and recording benchmark results, as simply writing down the score after a single run does not produce a realistic result. It's the reason why scores from the same tests on the same devices may vary widely across the web. We are confident in David's data, though, because he's the kind of guy that knows what he's doing and he's testing a legitimate Qualcomm reference device. So, onto the findings!
GeekBench 4 (CPU test)
In GeekBench 4's multi-core CPU test, the Snapdragon 835 (6461 points) obtained a whopping ~58% increase in multi-core CPU performance over the Snapdragon 821 (4089 points). It compared less favorably to the Exynos 8890 (5358 points), at a ~20.58% increase.
In the single-core test, performance improvements are marked, but less impressive. The Snapdragon 835 (2059 points) is ~25.7% faster than the Snapdragon 821 (1638 points) or ~10.3% faster than the Exynos 8890 (1866 points).
A while ago
, the Exynos 8895 scored 1978 (single-core) and 6375 (multi-core) in a preliminary GeekBench result. In this case, the Snapdragon 835 is a good ~4% faster in single-core and ~1.35% in multi-core performance. Of course, a retail Galaxy S8 unit following a proper benchmark procedure could output slightly better numbers, but that's what we have to work with for now.
GFXBench – Car (GPU test)
GFXBench's Car test features console-quality visuals and is extremely demanding, even for cutting-edge devices like the ones tested. The Snapdragon 835 (1513 points) is ~31.79% faster than the Snapdragon 821 (1148 points) and ~67.36% faster than the Exynos 8890 (904 points). This is a somewhat typical jump in GPU performance between Snapdragon generations, and it's also typical of Samsung SoCs to be lacking in GPU power compared to Qualcomm's.
There's a reason for that – the stock ARM Mali GPUs Samsung uses can be only pushed so far. A custom design is needed if Sammy wants to achieve parity with, or outperform Qualcomm's proprietary Adreno GPUs.
As for older and less-demanding GFXBench tests like Manhattan and T-Rex, the Snapdragon 835 carries its lead and basically wipes the floor with both processors. For the sake of brevity, we won't do individual performance increase calculations for each test, but we'll let David Ruddock's diagram speak by itself. The Snapdragon 835's Adreno 540 is a beast!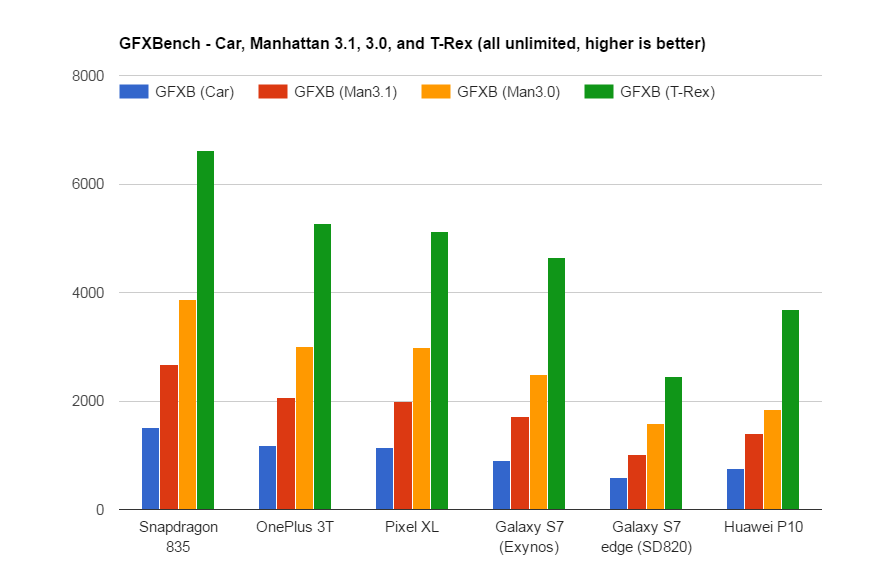 Pwnage, illustrated
* All graphics tests are ran off-scren at the same resolution, regardless of the respective device's native screen resolution.
** We don't have Galaxy S8/S8+ GFXBench results yet.
AnTuTu (System test)
AnTuTu is a complex system test whose six-figure high scores make people go "whoa!" The Snapdragon 835 reference smartphone achieved 181,939 points in David's test, which is in line with
a previous result of 181,434
, dated Dec 7 2016. Thus, the Snapdragon 835's high-score is ~32.5% higher than the Snapdragon 821 (137,290) and ~34% higher than the Exynos 8890 (135,691).
With consistently positive results like these, you're probably thinking Qualcomm should pop the champagne and take the rest of the year off. Nope! A few days ago, the Galaxy S8's Exynos 8895 basically
owned AnTuTu
with a high score of 205,284. That's a 12% performance advantage over Qualcomm's gladiator.
Since that's an AnTuTu score, we're more keen on chalking it up to Samsung using (and manufacturing) the fastest RAM and storage memory available for smartphones, rather than outright better CPU and graphics processing. But we can only speculate at this point.

All things considered, the Qualcomm Snapdragon 835 presents a very serious jump in performance and it will be up there with 2017's very fastest mobile processors. Typical smartphone usage, clever AI algorithms, VR games, and messing around with 4K videos will be a breeze with it.