Snapchat may be looking to move money around in addition to "those pics"
3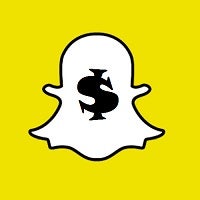 A pair of trademarks filed by a law firm on behalf of Snapchat indicate that messenger service may be making a move into the money moving business with peer-to-peer, transfers, and online payments.
These trademarks would put Snapchat in a position, not to make money disappear, but provide quick access to buy items directly or move money quickly between people a-la PayPal. It is thought that Facebook may be making a similar move with Messenger.
For Snapchat, the two trademarks involve application software for processing payments to and from "others that may be downloaded from a global computer network." The other is for "electronic transfer of money for others; providing electronic process of electronic funds transfer, ACH, credit card, debit, card, electronic check and electronic, mobile and online payments."
How this solution will augment Snapchat's plans to make money has not been commented on by the company. Such transactions usually involve a small fee collected by the middle man. It has been thought that Snapchat might go the traditional ad-based route, but processing payments would help avoid that to some extent. Or, this will augment the ad-based model for goods available at a special price for those that would use Snapchat payment services via the Snapchat app.
These trademarks do not guarantee a forthcoming feature, but they will prevent another company from entering that space using the "Snapchat" name. Either way, it is a departure from the type of media Snapchat usually sends and deletes (you know, "those" pics). For us, it is always good to have choices, as long as the money does not delete itself courtesy of the app; we need it to buy more gadgets.
source:
TechCrunch