Snapchat's new super-realistic lenses for iPhone X are finally here
20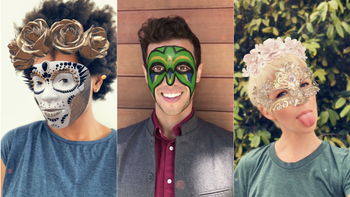 After announcing its new super-realistic lenses, tailor-made for the
iPhone X
and its advanced front-camera that can track your face with great accuracy, Snapchat is now finally rolling out the feature starting today.
It took the company a few months to get the feature ready, but it's finally here and it seems to live up to the promise, delivering detailed face tracking and realism. The new masks include a Mardi Gras mask, a Day of the Dead face paint with a matching headdress as well as a masquerade eye cover.
Traditional Snapchat Lenses use the 2D front-camera information to recognize major facial features, like eyebrows and mouth, while these new and more realistic lenses tap into the iPhone X's TrueDepth camera data. The depth information allows these mask to more precisely "adhere" to a subject's face. Apple explained that its TrueDepth camera fires a beam of infra-red light and maps 30,000 points on your face to get its detailed information. This will allow the masks to track your face and even the tiny movements.
The new masks will also react to ambient lighting, with shadows and highlights that follow the lines of your face and the surroundings.
As for the privacy aspect for all of this, Apple says that third-party developers like Snapchat only have access to the visual face mapping data and not the mathematical model used for Face ID unlocking. Still, having the full visual data is a lot of information. Apple says it has prohibited the use of this data for targeted advertizing.