#SmokedbyWindowsPhone on the road in Italy
15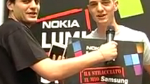 Microsoft and Nokia have taken #SmokedbyWindowsPhone on the road to Italy
along with the flagship Nokia Lumia 900
. Why Italy? The latest figures show the country to be one of the better Windows Phone strongholds as Microsoft's mobile OS has a 3.6% share in the country. The contest took place in Assago, near Milan.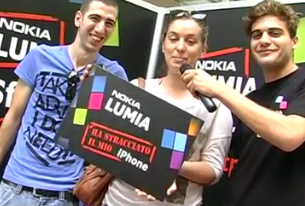 An Apple iPhone is smoked
The video below shows a montage of #SmokedbyWindowsPhone 'contestants' who were, well, smoked by Windows Phone. And while our Italian isn't what it used to be (Topo Gigio, pizzeria, Al Pacino), we can see from the signs held up by those who participated that there were a few Apple iPhone users who were smoked as well as owners of unannounced Samsung models. We take it that Microsoft and Nokia must consider Apple and Samsung to be their biggest competition because those totin' handsets not manufactured by those two were simply given a sign that carried the
one-size fits all description of "smartphone"
. Actually. it seems that many of those holding up the "smartphone" sign were using an HTC model.
So where next for the #SmokedbyWindowsPhone crew? Hmmm. Where in Europe would you find a large crowd of smartphone owners of all kinds, all pumped up with enthusiasm and ready for a good time? Knowing our sense of humor by now, you know we are referring to the Olympics. But Samsung has already paid for the rights to be the official phone of the Summer Olympics this year, Microsoft
wouldn't dare try to encroach on Sammy's territory
, would they?
source:
Plaffo
(translated) via
WMPoweruser
Recommended Stories