Smartphones did really change everything…including the way humans walk
5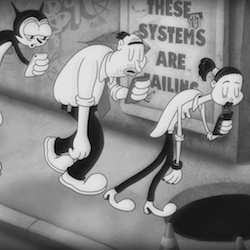 We have all seen people tripping up and down stairs, bumping nose-first into lamp posts, being almost hit by a car, etc. – as they all stare down at a mobile device of some form. And by people, we mean ourselves, too, as nowadays most of us zone out of real world and into the digital realm, even when we are out and about.
Apparently, walking and being engaged with your phone, talking or texting, changes your body's behaviour vastly, according to a recent study at Anglia Ruskin University, UK. Scientists used motion sensors to record how a subject's body moved, as he or she walked and used a phone, and eye-tracking equipment to measure eye behaviour.
For the purpose of the experiment, participants had a kerb-like object placed in front of them, which they had to overstep in three different cases – when texting, talking or when not using a mobile phone.
Interestingly, the researchers found that the amount of time people spent looking at the obstacle was reduced by up to 61%, irrespective of whether the subjects texted or talked on the phone. Of course, the percentage was higher when people texted, as compared to talking, but the scores were not wildly different.
"We found that using a phone means we look less frequently, and for less time, at the ground, but we adapt our visual search behaviour and our style of walking so we're able to negotiate static obstacles in a safe manner. This results in phone users adopting a slow and exaggerated stepping action," said Dr Matthew Timmis, Senior Lecturer in Sport and Exercise Science at Anglia Ruskin University.
The study found that people's lead foot was 18% higher when they were overcoming the obstacle in front of them, and moved up to 40% slower, compared to when they were not using a phone at all. Naturally, one's conscious visual effort is largely consumed by the desire to not make spelling mistakes or correctly read a received message. This takes vision-spatial attention away from resources going to scanning for possible hazards in the way, limiting one's ability to spot an object or avoid one.
Yes, guys, our bodies change and we become dangerous to ourselves and others, as many of us rarely let go of our phones, even when on the move. Some European countries, as well as China, have already began work on implementing special lanes and signs, in order to accommodate the masses of downward-staring humans on the move.
Maybe this will change, once we have an AR headset, think Google Glass, but a lot more functional; completely eye-controlled and capable of fulfilling your smartphone's duties. However, we do think people will stare mindlessly into seemingly empty space, as they navigate menus in their visual field, which could lead to new, different forms of body changes and hazards. It's like we've entered a vicious circle, isn't it?
source:
Anglia Ruskin University
via
CNET