Smartphone camera comparison: you choose the winner
99+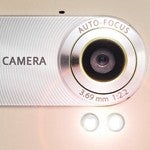 Picking the best camera among today's high-end smartphone is no easy task – sheer megapixels matter, but so does the sensor, the type of flash used and tens of other factors. While those are all relatively objective factors, there is one thing that swings decisions even more than the pure quality – call it bias, affection or fanboyism – afficionados of a certain brand will often overlook the negatives and claim their favorite product is the best out there, period.
That's why we've decided to
strip down bias
to the lowest level possible: we give you a
blind test
. But it's not just of smartphones as we're well aware that today's cutting
edge
handsets do well in challenging some basic digital cameras. That's why below you'll find images shot on
three high-end smartphones and a point-and-shoot camera
, all taken at select locations and the closest to identical conditions we could get.
The shots aim to
present typical situations
when you use a camera: for shooting a landscape, moving objects, people or shooting against sunlight. In all of the cases, we have used automatic settings – no scene selections, no exposure adjustments or any other adjustments that might have changed the final image.
The first set of images
has been downsized to a common resolution for viewing images online, so you can get to see the whole picture more easily and try walking in our shoes by judging which picture has the most appealing and realistic colors, which strikes the right balance when it comes to exposure, which features the best dynamic range and so on.
Device #1: HTC Sensation | Device #2: Apple iPhone 4 | Device #3: Canon PowerShot SD870 IS | Device #4: Samsung Galaxy S II


The second set
of images represents 100% crops from the original pictures on the three smartphones and the point-and-shoot camera. This allows you to get a better look at the finest details in a picture and better evaluate how much noise might have gotten in, whether some artifacts have made their way into the shot and how sharp/soft the image is. Each of the cropped images comes from one of the original pictures, but this time you can focus on the amount of detail and pick the best camera in those terms.
Device #1: HTC Sensation | Device #2: Apple iPhone 4 | Device #3: Canon PowerShot SD870 IS | Device #4: Samsung Galaxy S II


Both polls expire
on Monday, July 25th, but don't wait until the last moment to cast your votes. We'll publish the results the same day and that's when a second set of images - this time taken indoors - will follow and help us issue a final verdict about which is the best cameraphone among those we've used and does it have the guts to compete with even a digital camera. Don't hesitate to also comment and share your opinions about a close runner-up to your favorite set of images, rank the pictures or just better explain your choice.
UPDATE:
Our Smartphone Camera Comparison is now over and we've revealed
which the participating handsets are
. First here ranks our Canon PowerShot SD870 IS point-and-shoot, followed by the Apple iPhone 4, HTC Sensation and Samsung Galaxy S II.