Smart covers are the new security "threat" for iPads (w/video)
15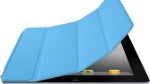 Yesterday, we found out that there was a relatively minor
security flaw on the iPhone 4S
, which allowed someone to get limited access to your e-mail, contacts, and calendar using Siri, even if you had a passcode on your lockscreen. Now, it turns out that you can also bypass a passcode protected lockscreen and gain limited access to an iPad 2 if you have a Smart Cover.
The trick works like this (because if we don't report the story, how will you know how to mess with your friends): if you hold down the power button until the "Slide to Power Off" toggle comes on screen, close the Smart Cover, then open it and tap "Cancel". Doing this will allow you to access the any application you have left open. It could pose a threat (again, only assuming you have something worth stealing), if the last app you had open was your contacts, e-mail, calendar, or maybe a banking app (assuming said app doesn't automatically log you out when you lock the iPad).
So, the easy work arounds for this one are to either turn off Smart Cover unlock or to just make sure you drop back to the home screen before locking your iPad. As always, just be smart about your device. We're sure Apple will fix this bug soon enough. The video shows the bug on iOS 5, but there have been reports of it also existing in iOS 4.3.