Smaller iPad coming in Q1 2011?
This article contains unofficial information.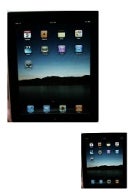 If you were one of those people who passed on the Apple iPad because of the sheer size of the thing, DigiTimes reported some good news for you. According to the site's Senior Research Analyst, Mingchi Kuo, a smaller sized tablet will be introduced in the first quarter of 2011. After checking around with component suppliers, Kuo says that the smaller iPad will have a display of about 5 to 7 inches and will be priced at less than $400 U.S. while being aimed at those using the tablet for reading without needing to input text often. The iPad Mini (not the official name) will be another device trying to breakout of the highly competitive portable device market and appears designed to grab those who want the iPad for reading newspapers, magazines and books without requiring all of the other entertaining things that the device can do.
UPDATE: However, keep in mind the information provided by the source is highly unofficial and should still not be taken very seriously. Though a smaller iPad would really make for an interesting device...
source:
DigiTimes