Skyfire shutting down servers and ending Windows Mobile/Symbian service
3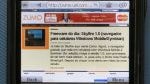 This might be a moot point for most of you, but
Skyfire
is shutting down their legacy v1.0 service for
Windows Mobile
and
Symbian
as of December 31st. Their v1.0 service was the dedicated browser, which compressed websites, and then transmitted them for your mobile viewing pleasure. Their current model is instead a hybrid one, which uses the native browser on your device to deliver Flash content, full screen videos, etc.
While they have already shut off their v1.0 service in many areas, the servers are officially going offline, ending service to any remaining customers.
Skyfire
laments that "It was a revolutionary product when introduced and offered for free, but the fast-moving mobile market has changed significantly since 2007, and as a small tech start-up, we need to keep innovating forward."
Skyfire mentions that they toyed with the idea of subsidizing the continued service of v1.0 with subscription fees, but piracy and cumbersome payment methods dissuaded them. They are instead focusing on newer operating systems like Android and iOS, which have support for html5, javascript, WebKit, offline browsing, and full screen video.
Skyfire v2.0 was recently released for both
iOS
and
Android
, and they are looking forward to adding more platforms. The same notice from CEO Jeff Glueck says that they are specifically working towards solutions for Windows Phone 7, MeeGo, and BlackBerry OS 6. If you are still using the original version of Skyfire, we recommend you switch to Opera Mini until you upgrade to a newer operating system.
source:
Skyfire
via
IntoMobile
Recommended Stories