Flash-playing Skyfire grosses $1 million in a week
2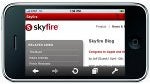 It took just a week for Skyfire Web Browser, the-browser-that-plays-Flash-on-the-iPhone, to go over the 300,000 download mark and gross $1 million in revenue. Skyfire is priced at $2.99, a sum many are willing to pay to get a richer web experience. Apple's policy would still get them 30 percent of the sum but the rest will all go to Skyfire.
It's been a week since Skyfire made appearance on the App Store and crunched under the heavy load to its servers responsible for converting Flash video to HTML5, the trick that makes the magic of playing Flash content possible for iPhone users. Since then the browser has been available in smaller batches in accordance with server capacity. A native Skyfire app for the iPad is also in the works and it sounds promising given the screen estate on the tablet.
Apple loosened its approval policy in the past months to let competitors to its Safari web browser, like Opera and Skyfire, enter the browser wars on the App Store. How will this affect mobile traffic we are yet to see.
source:
MacRumors
Recommended Stories