Siri application taken down from the App Store
24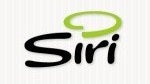 Undoubtedly, the Siri voice-guided assistant is one of the major perks that the
iPhone 4S
is going to have in its arsenal. Thanks to the cool new feature, the smartphone will be able to recognize input spoken in plain English in a way similar to how the protagonists in some sci-fi flicks control their space-age gadgets.
However,
Siri actually started off as a service available on iOS devices
, which Apple eventually purchased back in April of 2010. Sure, it may have not been integrated into the platform as deeply as it will be on the iPhone 4S, but the core of its functionality, namely the ability to recognize every day speech, worked fairly well. In fact, Apple kept the service running, and anyone owning an iPhone 3GS or an iPhone 4 could simply grab the Siri application from the App Store.
Unfortunately, things changed with the announcement of the iPhone 4S. Mere moments after the event,
the Siri app has been taken down from the App Store
. Besides that, those who have it installed on their iPhones are now being informed that the service will not be available on their device after October 15, which is, of course, the release date of the iPhone 4S.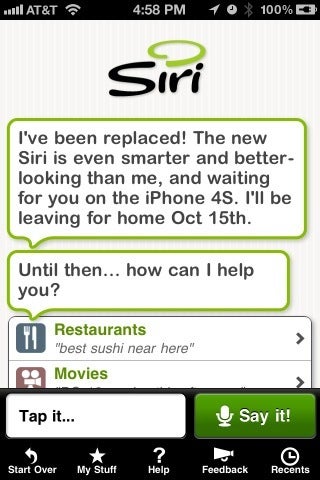 That is bad news for those who are accustomed to using Siri on a daily basis as they will have no other choice but to upgrade to an iPhone 4S in order to use the feature. Still, such a move does not come as a surprise since it wouldn't be logical for Apple to allow one of the major iPhone 4S features to be available as a third-party app, albeit to a limited extent.
For those of you not familiar with it, we were already treated to a
demonstration of Siri for the iPhone 4S
, so feel free to check it out as well. The technology looks pretty amazing in action, even though it is in beta stage, and is likely to redefine the standards in voice recognition on mobile devices. But would Siri be much of a reason for anyone holding on to an iPhone 4 or a 3GS to upgrade? Feel free to share your thoughts by dropping a comment below.