Singles using iOS are more likely to phone shame a date who uses an Android device
99+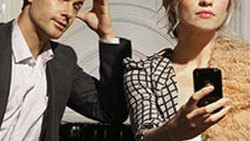 According to Match.com, how you are judged during a date depends greatly on the kind of smartphone you are using. According to the matchmaking website's annual "Singles in America" survey, iOS users are 21 times more likely to give their date a bad grade if they are using an Android flavored handset. Can you imagine this conversation taking place between a mother and daughter? "So, how was your date last night, Petunia?" "Mom, I thought this could be the one. He has a secure high paying job. He loves kids and puppies, and we both voted for the same candidate. We watch the exact same television shows and we love the same bands. It's just that he is...well, you know." "Petunia, he sounds perfect.
WHAT
is the problem?" "Mom (Petunia starts crying).He's...he's an Android user." Both Mother and daughter collapse in a hail of tears.
Android users shouldn't feel like they take the high road. Those who do happen to tote a phone powered by Google's open source OS are 15 times more likely to look down at someone just because they use an iPhone. And only God knows what iOS and Android users think of someone using a BlackBerry 10 or Windows powered device.
Match.com also found that 75% of singles gave their date a bad score for answering a cellphone on a first date. 66% do not want to see the person they are out with, sending a text during the date. 58% said that they are turned off by seeing their date's phone screen-side up on a table while conversing with them. And if you want to improve the odds that an evening will turn out to be successful, consider that 45% of singles consider it a turn-on if their date keeps his or her phone hidden in a pocket while out together.
Strangely enough, 29% considered it a turn on if the person they are out with took a phone call during a date. And while your friends might consider you a dork for not being subscribed to any social media site, 26% of singles saw that as a turn-on. Still, 50% of those surveyed found constant social media use to be a turn-off.
source:
Match.com
via
TheVerge