Since we're doing smart-everything nowadays, here's a smart padlock
16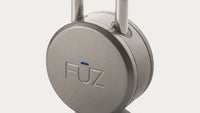 Gadget developers at FŪZ Designs, a startup that has had great success with 2 previous Kickstarter campaigns, believe that padlock technology is outdated and needs a slight bump, to better adapt to our modern times. Thus, they have come up with Noke [no:kei].
Noke is a Bluetooth padlock that can pair to any number of phones and can only be unlocked when there is a verified device around it. The "key" is stored on a companion app, which works on Android or iOS. The owner of said "key" can choose to authorize other devices for one time access, temporary access, or all-time access.
To unlock, you have to press the shackle once. Noke then starts looking for Bluetooth devices that have previously been paired with it. Once it finds one, it unlocks, simple as that. If your phone's battery drops, or you forget your phone altogether, fear not – you can unlock the Noke with a custom emergency code – you input it by pressing the shackle in a predetermined combination (it takes dots and dashes, so you can do your name in Morse code, eh?).
Noke is currently up on Kickstarter with a $100,000 goal. Backers, who pledge $59, will get it in February 2015 (provided the campaign is successful, of course). Upper tiers don't grant a flashy amount of perks, but you can get a multi-pack of Nokes at a serious discount (FŪZ Designs says that $449 will get you a 10-pack, at $441 off the retail price). Maybe a good deal, if you and your friends are interested.
source:
Kickstarter
via
Endgadget