Simulation games for Android and iOS that (almost) feel like the real deal
22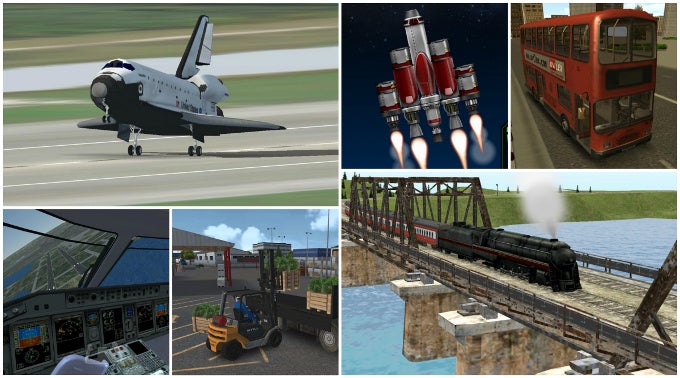 Let's face it, most of us will never ever get in the cabin of a space shuttle or a powerful bulldozer, but that does not mean that we can't get a virtual sneak peek inside the daily chores of an average astronaut or an operator of heavy construction machinery. Don't deny it, folks, most of you have dreamed of flying a Boeing 747 or driving a steam-powered train at least once, too. Well, it is safe to say that we'd do neither in our lifetime, but there's a way to experience a diminutive fraction of these craved activities right at your fingertips.
As you've probably already guessed, we will be talking about simulation games. Despite one of the latest hate-it-or-love-it trends in the genre, which commands that game developers should create peculiar and bizarre games that embrace their own bugs and flaws (such as the
infamous Goat Simulator
, which is due to arrive on mobile devices soon), there exist a number of pretty adequate and realistic simulation games for mobile devices. Yes, mobile devices are not the ultimate means for playing a simulator (desktops and consoles still reign supreme), but a number of adequate representative of the genre are available for mobile devices as well.
Being the avid and dedicated gamers we are, we searched high and low to find some of the most polished and most entertaining simulator games in Google Play.
Note: The titles listed below are sorted in no particular order.
Construction Simulator 2014
We have already included Construction Simulator 2014 in a previous pick, but the game is so good that it definitely needs to be included in this list as well. This is a full-blown simulator, which puts you in the shoes of an owner of a small construction company, which has to undertake a number of assignments. Although you're the boss, the game allows you to get inside the cabins of various and pretty exciting construction vehicles, such as flatbed trucks, excavators, bulldozers, tower cranes, concrete mixers, wheel loaders, rollers, and many others. The game is surprisingly good and might even appeal to those that usually detest simulator games.
Download: Construction Simulator 2014 (
Android
|
iOS
)
F-Sim Space Shuttle
Space shuttles have not pioneered space exploration, but without their aid maintaining and providing orbital space stations supplies wouldn't have been possible. These reusable high-tech spacecraft are the protagonists of F-Sim Space Shuttle. The game requires you to take control of a space shuttle as it approaches earth and enters the lowest layers of Earth's atmosphere. Your ultimate goal is to successfully land the spacecraft on the designated runway airstrip. You will be awarded with a certain amount of points and you can compare your score with other players of the game. Among the features that add up to the realistic feel of F-Sim Space Shuttle are the changing weather and night/day conditions, which have a big effect on your descent.
Download: F-Sim Space Shuttle (
Android
|
iOS
)
Infinite Flight Simulator
If you're dreaming about being in the cockpit of the airplane and not in its business class, then Infinite Flight Simulator is nothing else but the perfect mobile game for you. Apart from the vast selection of aircraft, this game will also provide you with a digital playground that spans across an area of thousands of square meters - complete your missions or just fly that F-16 for as long as you want, it's all up to you! Infinite Flight will also put you against the nightmare of almost every aircraft pilot - harsh and unpredictable weather conditions. Pure aircraft simulation at its finest!
Download: Infinite Flight Simulator (
Android
|
iOS
)
Train Sim

Undoubtedly, many a kid have dreamt of getting inside the cabin of a train's engine and heading straight for the next railway station, where they would unload the hauled goods and welcome a new bunch of passengers on board. Train Sim allows you to fulfill this dream at least in a virtual fashion. You can choose among more than 30 different engines, more than 20 different carriages, several environments, and even drive a train in the subway.
Download: Train Sim (
Android
|
iOS
)
Absolute RC Heli Sim
The developer of Absolute RC Heli Sim claims that this is not a simulation game, but a full-blown training program for all those who want to learn how to operate radio-controlled aircraft without breaking a few of these in real life. Well, these claims might hold water, as the controls of Absolute RC Heli Sim might initially scare you with their steep learning curve. The games employs realistic physics and allows you to choose between a variety of real RC helicopters and airplanes. If flying RC aircraft around is among your list of hobbies, definitely give Absolute RC Heli Sim a try!
Download: Absolute RC Heli Sim (
Android
|
iOS
)
Bus Simulator 3D
We already treated you to games that simulate train and aircraft transportation, but what's another type of popular public transportation? Buses, of course. Frankly said, becoming a bus driver is a tad more feasible than getting a pilot's license, but we digress. If driving such a big vehicle in the congested traffic and transporting grumpy, busy citizens from station to station for a fare is something you'd love to do on your mobile device, then check no other game than Bus Simulator 3D. It features a number of various buses, different locations, each with its own environment, and support for MOGA controllers.
Download: Bus Simulator 3D (
Android
|
iOS
)
Transport Tycoon
Okay, some may argue that tycoon games have their own genre, but Transport Tycoon can be reckoned as a business simulation game. The game is, in fact, an almost full port of Chris Sawyer's Locomotion, which is a spiritual successor to the eponymous retro PC classic, Transport Tycoon. This business simulator allows you to build your own transport empire from scratch by interconnecting industries with resource suppliers. In order to fulfill this cumbersome task, you'll need to build railway tracks, roads, tunnels, bridges, and after that buy trains, trucks, ferries, planes, and a whole slew of various transport vehicles. The game might look a bit childish at first sight, but believe us, it's not - the AI will breathe down your neck from the very beginning and if you haven't put your thinking business cap on, you'll go bankrupt in no time.
Download: Transport Tycoon (
Android
|
iOS
)
SimpleRockets
The concept behind this one is pretty similar to the one of Kerbal Space Program, a PC title that revolves around the creation of space rockets and fly a trio of goofy astronauts either to orbit or to the nearest celestial body. In SimpleRockets, players need to put on their thinking caps and create a spaceship by combining a number of rocket modules together. Pairing the most potent thrust engines with the largest fuel tank will help you complete one or two missions, but no more - the assignments are pretty complex and require you to carefully plan and optimize your rocket of choice. SimpleRockets is endowed with realistic physics, which is an incremental aspect of the game itself and complement the gameplay in a wonderful fashion. If you are into such games, SimpleRockets will certainly provide you with a challenge that will keep you engaged for some time.
Download: SimpleRockets (
Android
|
iOS
)