Sim-free Samsung Galaxy S II last to get Android 4.0 update in U.K.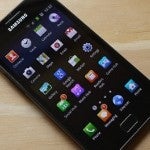 Simon Stanford is the VP of Samsung Telecommunications and Networks UK and Ireland. Simon says (see what we did there?) that the last group of Samsung Galaxy S II owners to receive the Android 4.0 update

will be those rocking a model that is SIM-free

. The Korean based manufacturer says it has to wait for all of the carriers to finish sending out updates so that Samsung can test the "blanket" release of Android 4.0. Stanford said, "
As an open-market customer you will be on a variety of networks, so it's got to work on whichever network you have chosen

."


"We're always desperate to get [updates] out as fast as we can, there's no reason for us not to. We don't like to have unhappy customers, it goes against everything that we do. We do take it very seriously. It's communication sometimes we need to work on - I accept that."-Simon Stanford
The Samsung executive admitted that his company could have done a better job with the update. Stanford agreed that communication between Samsung and its customers about the ICS update

could have been handled better

. Hopefully this will lead to a smoother process when the Samsung GALAXY Note gets updated to Android 4.0. While the update for the phablet has been delayed, Stanford says that once the process starts, rolling out the updates on different networks will be faster this time.

source: Pocketlint