Silver Nokia 6 goes on pre-order on Amazon, ships within 1 to 3 weeks
2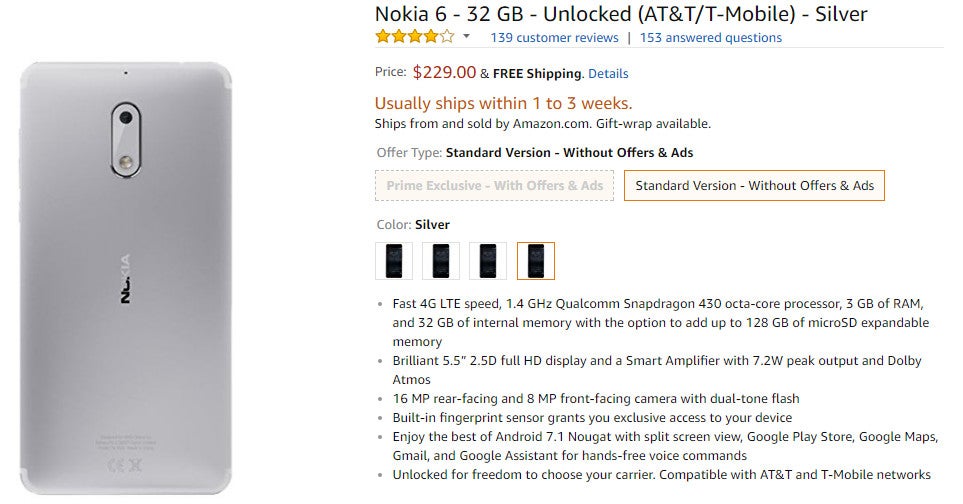 Nokia 6 went on sale in the United States
about two weeks ago
, but customers could only grab the Black version of the mid-range smartphone. On top of that, Amazon offered two versions: the regular ad-free variant, and a cheaper Prime-exclusive, ad-supported model.
Three other color options for the
Nokia 6
will arrive in the United States in the coming weeks, Amazon claims. The Silver flavor of Nokia 6 is now available for pre-order in its standard form (without offers and ads), but the phone won't ship until at least one week from now.
The Silver Nokia 6 costs $229, just like the Black version, which can only be had in its Prime-exclusive variant since the retail model now ships within 1 to 2 months.
Copper and Blue Nokia 6 variants are expected to hit the shelves at Amazon, but customers will have a hard time buying one. The Prime-exclusive
Copper Nokia 6
will be available on Amazon on August 18, but the standard version, even though it's up for pre-order, it will ship within 1 to 3 months. The Blue Nokia 6 is not even in stock at Amazon, so it remains unclear when the smartphone will be available for purchase.
Keep in mind that all
Nokia 6
versions come unlocked, which means they will not be compatible with any CDMA carriers in the United States. However, you can definitely use it on AT&T and T-Mobile since they operate GSM networks.