Should Android phones be embracing the notch?
67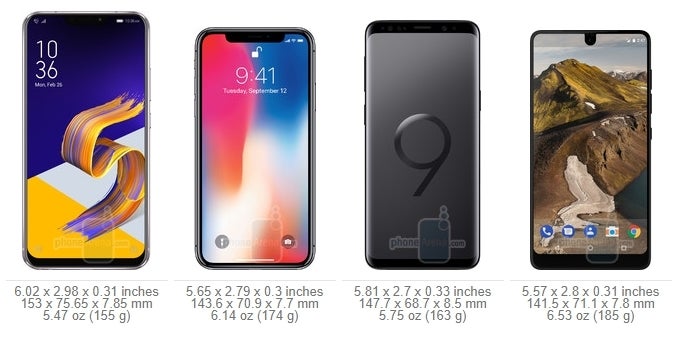 ZenFone 5
iPhone X
Galaxy S9
Essential
83.69%
screen-to-body ratio
82.35%
screen-to-body ratio
84.36%
screen-to-body ratio
84.85%
screen-to-body ratio
Asus already
did it
, but
LG
,
Huawei
,
OnePlus
,
Oppo
, and plenty of other less known Android warriors are reported to have phones in the works that flaunt a top bezel cutout to house the front camera, earpiece and other paraphernalia, in an
Essential Phone
, or, the more likely inspiration - an
iPhone X
notch style. Should Android phones be embracing the notch, though?
Copycat legalities aside, the "notch" allows a manufacturer to boast extremely high screen-to-body ratios. The new
Asus Zenfone 5
boasts 83.69% of it in our benchmark calculations, which is a bit higher than the iPhone X's 82.35%, as the Zenfone has narrower notch, and still, the Galaxy S9, which sports an oldfashioned uninterrupted, but very thin top bezel, beats them both with 84.36%, which only gives way to the Essential Phone's 84.85%, but this one has the most minimalistic "notch" of them all.
Thus, without further ado, our question is should Android phones follow in Apple's footsteps, and embrace the notch to reach higher screen-to-body ratios, yet letterbox videos or provide unsightly scene in full-screen apps, or should they be following in the footsteps of Samsung, or maybe Xiaomi with its Mi Mix series, trying to trim the bezels all around, yet abstaining from cutouts and other general patchwork. Pick your poison, and tell us what you think in the comments.